Images: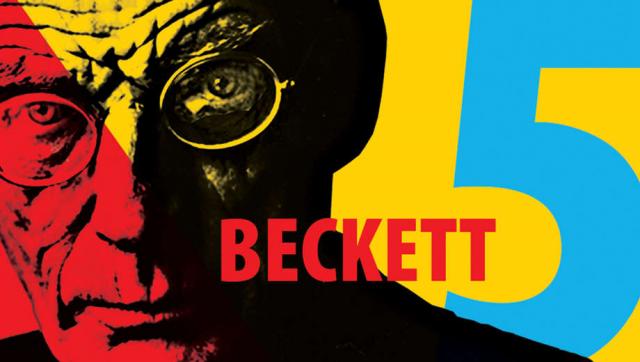 Company/Producers:
KOAN Unit (Odyssey Theater Ensemble)
Theater Address:
2055 South Sepulveda Boulevard
Review:
The Koan Unit, a handpicked team of actors working under the auspices of Odyssey Theater Ensemble, has mounted a bill of Samuel Beckett short plays, Beckett 5.. Directed by OTE's longtime artistic director, Ron Sossi, the bill includes four lesser-known works by Beckett (Act Without Words II, Come and Go, Catastrophe, Footfalls) and the now-famous Krapp's Last Tape The actors, Alan Abelew, Beth Hogan, Diana Cignoni, Sheelagh Cullen, and Norbert Weisser, deliver well-honed, expert performances that bring these cryptic, metaphysical plays to life in vivid fashion.
Beckett's unique gifts as a writer are on display here: his simple, terse, ironic style, his verbal gifts, his love of vaudevillian humor — and of course his despairing view of ailing mankind (which is why Robert Brustein called him "the poet laureate of Alzheimer's disease").
Act Without Words is a 15-minute mime piece in which a man and woman, who are wrapped in white sacks, struggle to get free, only to be prodded back into captivity by a figure resembling the angel of death.
Come and Go, is a little more cheerful: three women in gaudy pastel dresses and hats, chatter inanely and comically on a park bench, only to disperse at the slightest threat of rain. Beckett poking fun at smug bourgeois society?
Catastrophe, which Beckett dedicated to Vaclav Havel, makes an indirect political statement. A battered, bloodied chap in a shabby black overcoat stands on a pedestal, suffering verbal abuse from an officious, overbearing woman who takes pleasure in humiliating and unmanning him.
Footfalls, which centered on a lone elderly woman in white communing with the memory of her dead mother, was unfortunately marred by a technical glitch which made comprehension difficult.
Krapp's Last Tape took up the second half of the two-hour-long production and it featured Norbert Weisser in Beckett's portrait of the artist as an old man. Unknown and unsuccessful, Krapp tries to make sense of his failed life as a writer by replaying tapes of his dubious accomplishments. His speeches are all about the role of memory and the value of love. Krapp's honesty, sardonic humor and sad plight are contained in this line: "Seventeen copies sold, of which eleven at trade price to free circulating libraries beyond the seas. Getting known. (Pause.) One pound six and something, eight I have little doubt." P>Weisser, a founding member of the Odyssey Theatre, handles this fiendishly difficult and challenging monologue with remarkable ease and skill, giving a performance that will long be remembered.
Cast:
Alan Abelew, Diane Cignoni, Sheelagh Cullen, Beth Hogan, Norbert Weisser
Technical:
Set: Mark Guirgis; Costumes: Audrew Eisner; Lighting: Chu-Hsuan Chang; Sound: Christopher Moscatiello; Props: Jenine MacDonald