Company/Producers:
piece by piece productions, Rising Phoenix Rep (risingphoenixrep.org) & Barr Group Theater Co.
Review:
All the Rage is a first-rate one-man show written and beautifully performed by Martin Moran. This is a work of non-fiction that humorously and poignantly explores the special and painful events that were a part of his growing up and how those experiences shaped the character of the man on stage.
Mr. Moran is at once engaging and inviting. He grabs the audience's attention in the opening moments of his performance and never let's go. There is no struggle in joining him on his journey, which in the end leaves one with a feeling of having spent an enjoyable time with a skillful story-teller.
The story begins with his father's funeral in Las Vegas and an explanation of the war with his "father's wife." Martin tells us about his father's second wife in saying, "I never called her my step-mom. It was always my father's wife." His encounter with his "father's wife" becomes a transformative moment as the journey takes us from Las Vegas to New York to Africa.
Each element in this journey is beautifully laid out with humor and understanding. It is an exploration into the meaning of compassion and anger and how one man came to an understanding of these powerful emotional opposites as they impacted his life. Mr. Moran skillfully guides the audience through each of the moments of discovery on his journey to understanding and acceptance.
All the Rage is a well spent 90 minutes, as director Seth Barrish gives the action a smooth, effortless feeling.
Mark Wendland's set design is an unassuming lecture space within which an intimate conversation unfolds with a likable and engaging man who has a heartfelt and important story to tell. Russell Champa's lighting design adds warmth and comfort to the set and to Mr. Moran's performance.
The show has a limited run at the Peter J. Sharp Theatre at Playwrights Horizons. It is not to be missed.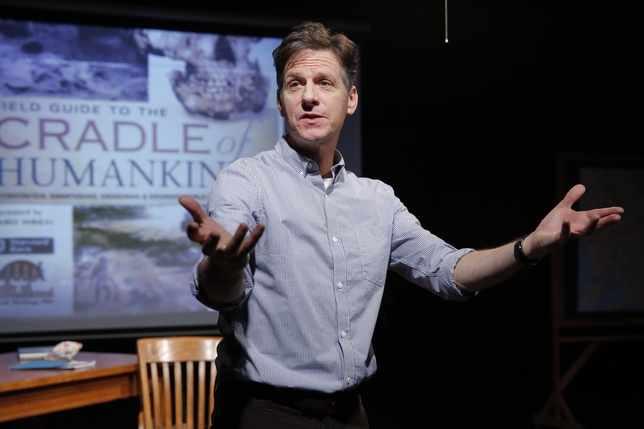 Technical:
Lighting: Russell Champa. Set: Mark Wendland.