Company/Producers:
Disney Theatrical Productions
Review:
If I had a magic lamp with three wishes, I would have many uses for it, but none would include tickets to another Disney musical on Broadway. The lamp, however, is not mine and when I went to see the latest Disney offering, Aladdin,at the New Amsterdam Theater, I must admit there are pretty razzle-dazzle moments, and they aren't all because of the avalanche of sequins.
Most dazzling is the show-stopping genie, James Monroe Iglehart (Memphis). This fireball swaggers and storms through some eye-catching segments, radiating fun. He comes through at the end panting and sweating but only until his next number. Then he starts all over. The stand-out number, "Friend Like Me" (lyrics by the late Howard Ashman), is a rollicking, over-extended show-in-itself, sung by genie and Aladdin inside the most glittery cave you've ever seen. Somehow, the ensemble also shows up in the cave and joins the hoopla. It's genie, however, who barrels through with such energy and enthusiasm that he's almost on auto-pilot, plucking nutty references like "Dancing With the Stars," "Let's Make a Deal" and Oprah Winfrey. You might think this is the Act I finale, but no, there is "The Act One Finale," a reprise of "Friend Like Me" and a heartfelt ballad sung by Aladdin, "Proud of Your Boy" (also written by Ashman).
The rest of the show is predictable. Written by Chad Beguelin (Elf) and based on the 1992 animated film, Aladdin features a boyishly likeable Adam Jacobs (The Lion King) in the title role. He's a good-hearted "street rat" with three goofy pals from the hood, Brian Gonzales (Babkak), Jonathan Schwartz (Omar), Brandon O'Neill (Kassim) (these were monkeys in the film). These guys get the corniest lines. "Every time I pick a pocket, I feel awful." complains Aladdin's buddy Omar, to which his mouth-stuffing pal Babkak replies, "Falafel? Did somebody say falafel?"
Romance enters when Aladdin spots the lovely Jasmine (Courtney Reed), an escapee from the Sultan's palace meandering through the bazaar with her three minions. It's love at first sight. Problem -- her father is looking for a prince to become Jasmine's husband and safeguard his royal position. The plucky Jasmine, however, wants to be free and make her own decisions. Alas, this is not to be so. She tells Aladdin he cannot marry her because he must be a prince. Another kink in their romance is the evil Jafar (Jonathan Freeman), shadowed by his own fast-talking pint-sized sidekick, Iago (Don Darryl Rivera) (a parrot in the film).
The saving grace for the couple is the above-mentioned magic lamp with its three wishes and charismatic genie, who wants only one of the wish for himself. guaranteeing his own freedom so he works his darndest to make sure Aladdin gets the other two. Jacobs is an energetic singer with a sweet charisma, but as the Princess Jasmine, Reed sings with a level pop sound, bringing no substance to her character or emotion to her feelings. Jafar and Iago are deliciously nasty but again, it is Iglehart who steals the show as the genie.
Setting a glamorous mood are the standout songs by the late Howard Ashman and Tim Rice, with added music by Alan Menkin and Chad Beguelin, as well as Bob Crowley's dazzle of glitter and the technology of the magic carpet. How this flies the young couple around the stage is magical.
Also, a treat for the adults who bring children, just perusing the spectacular New Amsterdam Theater with its vintage glamour is worth the show. Aladdin, like all the Disney musicals, is aimed for kids, and they probably won't be as impressed by the theater's interior as with the vibrant and swirling onstage colors and can't help but be engrossed in the adventures of Aladdin. It's fun to see, and that's the whole point, isn't it?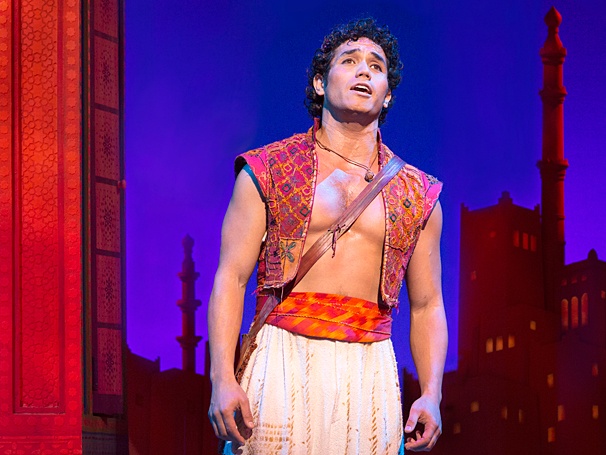 Cast:
Adam Jacobs, Courtney Reed, James Monroe Iglehart, Jonathan Freeman, Brian Gonzales, Brandon O'Neill, Jonathan Schwartz, Clifton Davis, Merwin Foard, Michael James Scott, Tia Altinay, Mike Cannon, Andrew Cao, Lauryn Ciardullo, Joshua Dela Cruz, Yurel Echezarreta, Daisy Hobbs, Donald Jones, Jr., Adam Kaokept, Nikki Long, Stanley Martin, Brandt Martinez, Michael Mindlin, Rhea Patterson, Bobby Pestka, Khori Michelle Petinaud, Aleks Pevec, Ariel Reid, Jennifer Rias, Trent Saunders, Jaz Sealey, Dennis Stowe, Marisha Wallace and Bud Weber.
Technical:
Set: Bob Crowley. Sound: Ken Travis. Lighting: Natasha Katz. Costumes: Gregg Barnes. Hair: Josh Marquette. Makeup: Milagros Medina-Cerdeira. Illusions: Jim Steinmeyer. Musical Supervision, Incidental Music & Vocal Arangements: Michael Kosarin, Orchestrations: Danny Troob, Fight Direction: J. Allen Suddeth.
Other Critics:
TOTALTHEATER Michall Jeffers 4/14 + David Lefkowitz 4/14 ?