Ended:
open run (as of June 2014)
Company/Producers:
Walt Disney Theatrical Productions & Cameron Mackintosh
Review:
It seems like almost everything Disney touches on Broadway turns to gold when they successfully translate animated movies into lavish family-friendly stage shows. The most recent, Aladdin,based on the extremely successful 1992 movie, is no exception.
When Aladdin, a poor street boy, finds a magic lamp with a Genie inside, he is granted three wishes. His first wish is to become a prince so he can be worthy of Princess Jasmine whom he loves. Of course, as with all Disney movies, there are lessons to be learned and morals to be exemplified. Characters learn the importance of honesty and freedom. More recently, Disney heroines now serve as role models to the legions of young girls who watch, proving that girls can do anything they want.
Adam Jacobs (Aladdin) and his co-star Courtney Reed (Jasmine) are perfect Disney stars. They are attractive, have good voices and are very talented and likable. The trouble is that most Disney heroes/heroines seem interchangeable with little to nothing to distinguish one from another. Jonathan Freeman (the voice of the movie Jafar, the Sultan's evil advisor) recreates his roles on stage with a menacing persona.
The show is gloriously colorful with settings like one-dimensional storybook pages and vibrant costumes. The show is directed and choreographed by Tony-award winner Casey Nicholaw, who includes several dance scenes.
The original movie had songs by the late Howard Ashman and Alan Menken. The stage Aladdin has additional lyrics by Tim Rice and Chad Beguelin. However, the songs that are most enjoyable are the original ones from the movie. "A Whole New World" is nicely presented as Aladdin and Jasmine fly through the twinkly-starry night over the city on the magic carpet. I was disappointed that the carpet didn't soar over the audience but instead just flew over the stage.
By far, the best number in the show is "Friend Like Me" performed by the Genie, James Monroe Iglehart. Robin Williams was the movie genie and Iglehart has large Moharis (curled Arabian shoes with curled toes) to fill. Williams' performance was one of the highlights of the film. Luckily, Iglehart does a fine job. A big man, he exudes energy and spirit, even doing a cartwheel. His voice is large and booming, and when he's on stage, the show sizzles with electricity. There's a cute addition to the song when the Genie sings melodies of recognizable ditties from other Disney shows. The production number is lavishly staged and stops the show.
The musical appeals to adults through clever puns and wordplay. Although the humor is over the heads of the youngsters in the audience, it works well for the adults. Aladdin is charming G-rated family entertainment (despite many bare chests and belly buttons) and sure to please the youngsters and the parents accompanying them. The cast works hard, and Iglehart is spectacular. Like other Disney productions, it's a very costly evening out but one which kids (and most parents) will remember.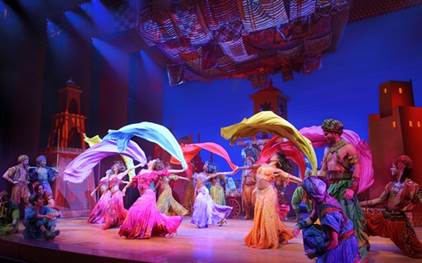 Cast:
Adam Jacobs (Aladdin), Courtine Reed (Jasmine), James Monroe Iglehart (Genie), Jonathan Freeman (Jafar), Brian Gonzales, Brandon O'Neill, Jonathan Schwartz, Don Darryl Rivera (Iago).
Technical:
Set: Bob Crowley. Cost: Gregg Barnes. Lighting: Natasha Katz. Sound: Ken Travis. Orch: Danny Troob.