Company/Producers:
The Robey Theater Co. & The Los Angeles Theater Center
Theater:
Los Angeles Theater Center
Review:
The protagonist of Levy Lee Simon's world premiere play is an inanimate object: the Dunbar Hotel. Built in 1930, the Dunbar sat at the heart of south-central L.A.'s black ghetto (racial "covenants" prohibited blacks from living elsewhere in the city). The Dunbar was an elegant hostelry where such showbiz luminaries as Duke Ellington, Lena Horne and Ethel Waters–-plus intellectuals like W.E.B. Dubois and Paul Robeson–-could stay when they visited L.A. The Magnificent Dunbar Hotelcarves out a big chunk of history: seventy-eight years' worth, to be exact. Serving as a kind of guide to all that history is the ghost of Paul Laurence Dunbar (Julio Hanson), the famed black poet after whom the hotel was named. Hanson wanders in and out of scenes, reciting brief, pungent passages of poetry and keeping a watchful eye on the proceedings.
And what proceedings they are: we watch as Lucius Lomax (Dwain A. Perry), the new owner of the Dunbar, opens a nightclub next door, Club Alabam, which soon becomes the hottest spot on Central Avenue, a place to hear red-hot blues and jazz. And when the USA went to war in 1941 and blacks in large numbers migrated to L.A. to work in that city's shipyards and defense plants, Central Avenue became a boom town with hundreds of clubs, restaurants, vaudeville houses and movie palaces offering entertainment `round the clock. Powerful churches and businesses also took root, with a daily newspaper, The Eagle, becoming the ghetto's voice and conscience (strong performance by Cydney Wayne Davis as the paper's feisty publisher, Charlotta Bass).
The dark side of all that prosperity and celebration is also explored in The Magnificent Dunbar; L.A. was still a segregated city, home to large numbers of Ku Klux Klan and bigoted cops. Race riots broke out, and some blacks were so traumatized by them that they refused to join the army and fight for a country which so obviously undervalued them. The moral dilemma over whether to serve or not is well-dramatized by Simon and became, for me, the most compelling part of his large, sprawling drama.
The end of WW II brought about big changes in south-central L.A.: militant locals succeeded in having the city's racial covenants repealed. This proved to be a pyrrhic victory as large numbers of blacks fled the ghetto and took up residence elsewhere in L.A. South-central's social, political and economic power was greatly diminished by this exodus. Simon captured the essence of this ironic development in a scene between Duke Ellington (Eddie Goines) and Charlotta Bass. "You're abandoning the Dunbar," she shouts at him after he announces that he's moving uptown to the Roosevelt Hotel. "You're abandoning your people!"
The swift demise of the ghetto and of the Dunbar itself follows; by the Sixties, the hotel was in shambles, taken over by junkies and derelicts. Today the Dunbar still stands (in a largely Latino neighborhood), but L.A. has made some attempts to restore it. Mostly, though, it's a shell of its former glamorous self, a haunted house really. In a final scene, Simon summons up all of its ghosts: The Duke, the boxers Jack Johnson and Joe Louis (Kem Saunders and Eddie Goines, respectively), Lena Horne (Tiffany Coty) and Ethel Waters (Elizabeth June), Paul Robeson (Jah Shams) and W.E.B. DuBois (Tommy Hicks), Chester Himes (Sammie Wayne IV), plus various other minor characters (the cast is 20-strong), and together they sing a song of farewell to the glory days of the Dunbar.
The Magnificent Dunbar Hotel was commissioned by The Robey Theater Company; now in its twentieth year of operation, the Robey went all out on this production, building a lavish, multi-level set (Michael D. Ricks), paying for extensive video effects (Harold Sylvester) and lavish period costumes (Naila Aladdin Sanders). The Robey's artistic director Ben Guillory deserves full marks for this impressive achievement; he has worked theatrical magic here. As for the play itself, even though it hopscotches through history, it never loses its essential warmth, humor and life.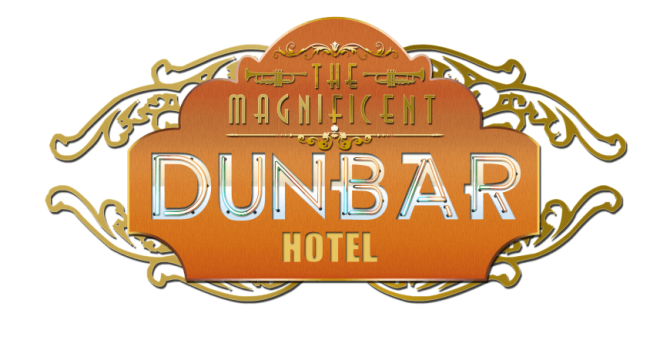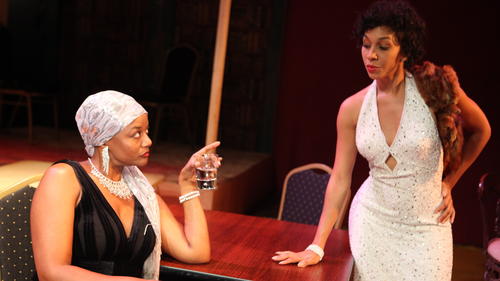 Cast:
Dwain A. Perry (Lucius), Cydney Wayne Davis (Charlotta).