Review:
There's no shortage of you're-all-losers sketch comedy, but from its inception in 2000 (under the title "Cupid Misfires His Eros"), the mission of "Chicago's longest-running musical comedy" has been to declare us all losers. Instead of extolling giddy infatuation or resigned contentment, Brian Posen and his ensemble have made it their goal to assure us that we are not alone in our insecurities or imperfections.
Take the gentle candlelit anthem where the players describe their individual reproductive apparati and exhort us to "Celebrate your privates/ there's no shame/We're all the same," for example, or the whispery toccata on the universal topic of accidental farting. How about a full-cast proclamation affirming that our parents having "dirty sex" is "what made you and me"? Other bodily functions are addressed as well—like a devout Jewish lad's secret craving for bacon (pronounced "BAH-cccchone") and a young woman who finds universal solace in sweet pastries.
Even more impressive than the sheer anarchy generated by the unabashedly bawdy lyrics is the acuity with which musical styles are paired with topics. A history teacher's confession of erotic fantasies centering on our lesser presidents is accompanied by an Appalachian string band, complete with washboard, spoons and clog dancing. A wistful lament titled "She Likes You, But She Doesn't Like You Like You" is crooned in impeccable barber-shop chorale harmony, and a boy band dressed in nothing but guitars and speedos warble, "(That's How I Say) I Love You."
What also distinguishes this swiftly paced, 90-minute revue is the verbal agility that comes with rehearsed material: the conclusion of intermission is signaled by a patter song delivered at a speed that ultimately overwhelms the spectator hubbub until the room is "silent as a monastery." This being Chicago, the evening includes a few improvised audience-participation interludes—one involving a date with a female psychopath and the other, assisting a disabled cast member. Oh, and let's not forget the "O Fa Cue" sing-along.
Humor reveling in the fast, the loud and the hormonal demands more than mere audacity to be rendered almost wholesome in its curiously squirmless innocence. It also requires a genuine compassion for its subject and a willingness to embrace it in all its manifestations—as one song asserts, "Sex doesn't discriminate/even the president masturbates."
If risqué isn't your cup of aphrodisiac, you can always ignore the lyrics and enjoy the experience of witnessing seasoned performers at the top of their game (as long as you don't ask the piano man what he's thinking).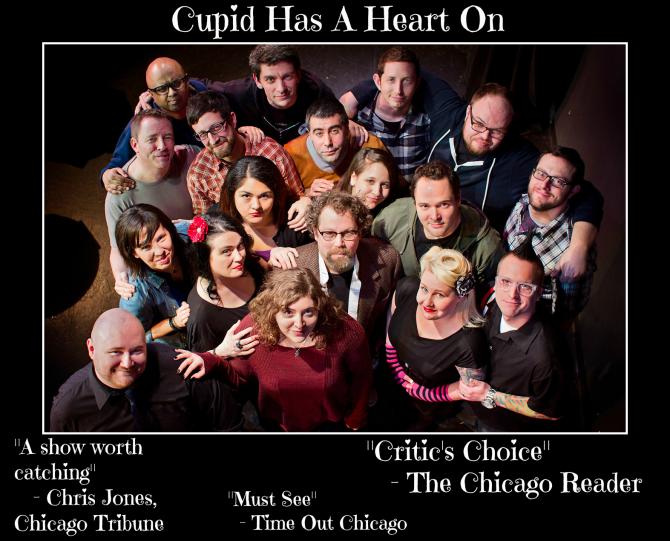 Miscellaneous:
This review first appeared in Windy City Times, 1/15.