Images: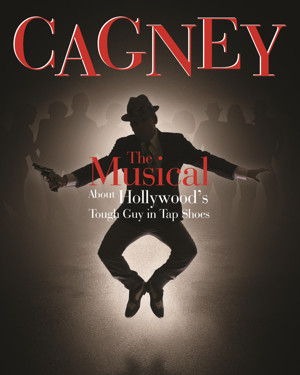 Company/Producers:
Riki Kane Larimer, Jamie deRoy, Sharon Azrieli, Joe Cecala, Barbara Freitag, Joel B. Grossman, Joe Sirola, Mary Cossette, Emily Connor
Review:
Cagney is a total joy from beginning to end. Robert Creighton couldn't be better as the Irish street kid turned hoofer turned movie tough guy. The story of his struggle to be thought of as more than just a growling hood is one that hasn't been brought to light before. The stage features a proscenium arch, behind which are posters of Cagney movies. The floor is covered in purple squares, and "Cagney" is on the marquee overhead. All of this lends a theatrical flair to the show.
The first line heard is "Top of the world, ma!" which is most often associated with the title character. The black and white theme of the early films is represented by the colors worn by the performers. It's 1978, and Cagney is being given a Lifetime Achievement Award by the Screen Actors Guild. Due to present it is Cagney's old boss, Jack Warner (Bruce Sabath), which is ironic on a couple of different levels.
We flash back to New York City in 1919, when young Jimmy objects to the poor treatment and low pay of workers. He gets into a fight with the callous pawn of the management, and is fired from his job. He goes home to his mother (Danette Holden) and his brother, Bill (Josh Walden), who encourage him to try out to be a dancer in a vaudeville company, "Keith's Music Theater." It's there he meets his future wife, Willie (Ellen Zolezzi), and his show business life begins.
Jimmy goes on to do a stage show, and becomes a hot property. Jack Warner calls him to Hollywood, because he's looking for a new leading man. Scrappy little Cagney ain't it, but the redhead soon proves his talent, and Warner sees a way to make money by pumping out gangster films. There doesn't seem to be an awful lot of terrific things to say about Warner as a person, but he certainly knew how to make a buck for his studio. He's penny pinching, insensitive, and largely without human traits in general, and he and Cagney, who always supports the little guy being bullied, reach an impasse. It's not hard to understand how anyone could dislike Warner. He's arrogant, struts about his success, and has no problem bullying anyone who dares to question his divinity. In other words, he's the Trump of his day.
While Cagney is a huge success in "Yankee Doodle Dandy" as George M. Cohan, the films he makes with his own company bomb. The public really does want to see him as a gangster, and he achieves the pinnacle of his career with "White Heat" in 1949. Along with smashing a grapefruit in Mae Clarke's face in "The Public Enemy," his "Top of the world, ma!" line is how most movie lovers remember Cagney. He goes to great pains to point out he never actually said "You dirty rat!"
This isn't a perfect production. It's pretty hard to tell that Robert Creighton's hair is supposed to be red, and while he looks astonishingly like Cagney, Jeremy Benton looks nothing like Bob Hope. The juxtaposition is jarring. Act One should finish on a rousing rendition of "Grand Old Flag," not a political downer, especially since the 1940 date is a head scratcher when focusing on government investigations of Communist sympathizers.
Still, Cagney is a major crowd pleaser. The audience goes especially wild over the medley of patriotic songs sung to World War II soldiers in San Diego, complete with eye popping, knee slapping tap dancing. Every performer in the production is top rate, and the singing and dancing can't be beat by any other production currently on the boards. If ever a show deserved to be moved from Off Broadway to the Great White Way, it's Cagney.
Cast:
Robert Crieghton, Jeremy Benton, Danette Holden, Bruce Sabath, Josh Walden and Ellen Zolezzi
Technical:
Set: James Morgan; Costumes: Martha Bromelmeier; Lighting: Michael Gilliam