Images: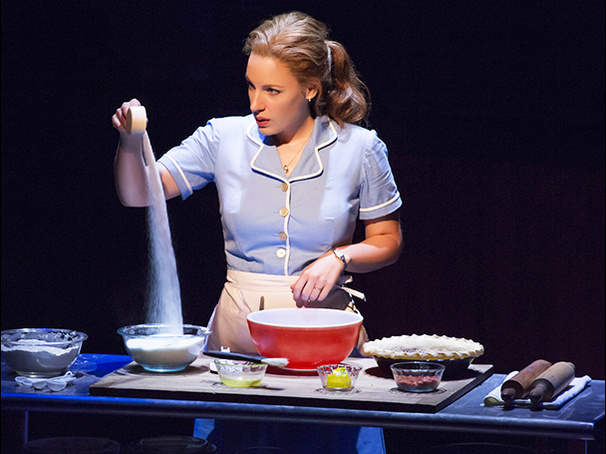 Company/Producers:
Barry & Fran Weissler, Norton & Elayne Herrick
Review:
Some actors are so instantly lovable that from the moment they step onstage, they can do no wrong. Add an unmistakable sincerity, a glorious voice, and real acting chops, and you've got Jessie Mueller in a nutshell. For her turn as Jenna, the put-upon Waitress of the title, she also has just enough spice to strive to break free from her dreary life with her totally boorish and self-pitying husband, Cal (Eric Anderson).
Jenna hasn't had much of a role model; her mother was also married to an insufferable lout. But she did teach Jenna about the joys of baking. The chant is heard throughout: sugar, butter, flour. Even when the world comes crashing down around her ears -- she's found out she's pregnant -- baking is reliable, a creative outlet, a way to make everything seem right in the world.
This is a true feminist message, engagingly sung and empowering. Jenna and her two best friends, spunky Becky (Keala Settle) and shy Dawn (Kimiko Glenn), all work together at Joe's Pie Diner. They bolster each other and encourage each other to excel wherever possible. In Dawn's case, this means finding a true mate who's just as eccentric as she is. Enter Ogie (Christopher Fitzgerald), part leprechaun, part turtle, who steals Dawn's heart. He also very nearly steals the show with his amped-up declaration "Never Ever Getting Rid of Me." Becky finds excitement in an unlikely partner, while Jenna has an affair with her gawky but charming gynecologist, who's married (Drew Gehling). Jenna also gets inspired to dream about entering her pies in a contest which might net her enough money to leave Cal.
Waitress has a dichotomy which can't be ignored. While the storyline positively supports Jenna's journey to self-fulfillment, it also winks at the adultery. Dr. Pomatter's not just Jenna's lover, he's also a dedicated husband who has moved to this small Southern town because his wife has a job in the hospital there. She's not a monster or a shrew, and Jenna meets her when she's giving birth. The break up between Jenna and her doctor/boyfriend is little more than a shrug from both of them. Dollars to donuts a sad song of parting was cut at some point in the production. But the cheating aspect is barely touched upon and leaves a bad taste.
Likewise, in a show that should be suitable family viewing, there's a lot going on that shouldn't be seen by anything but a mature audience. This may be a tip of the hat to the 2007 movie, but onstage, it's out of place. The songs are pleasant, but with few exceptions, not memorable. It's impossible to know if Jenna's heartfelt "She Used To Be Mine" would be anywhere near as impactful if not sung by Ms. Mueller.
The diner itself becomes a character in the story. Joe (Dakin Matthews), the owner, sees potential in Jenna, even as he acts crotchety and demanding. The band is on a dais on the stage, and the singing ensemble is made up of customers. The curtain features a lattice crust cherry pie. Luscious-looking Pies line the sides of the stage, piled to the heavens, and rotating. The enticing smell fills the theater, and during intermission, people are eating tiny pies in the aisles having brought them in from the lobby, where they're being sold. The fact that the doctor hasn't had sugar in years, and then indulges in a blissful binge, is an obvious metaphor alluding to his inappropriate and out-of-control feelings for Jenna.
To some degree, we all yearn for the sugar . . . butter . . . flour in our lives. Tastily presented by an outstanding ensemble, Waitress takes us out of the cacophony and uncertainty of our lives, and brings us to a place where dreams can come true, and real friendship makes life all the sweeter.
Cast:
Jessie Mueller ( Jenna), Eric Anderson (Cal), Nick Cordero (Earl), Christopher Fitzgerald (Ogie), Drew Gehling (Dr. Pomatter), Kimiko Glenn (Dawn), Dakin Matthews (Joe), Keala Settle (Beck)
Technical:
Set: Scott Pask. Costumes: Suttirat Anne Larlarb.