Images: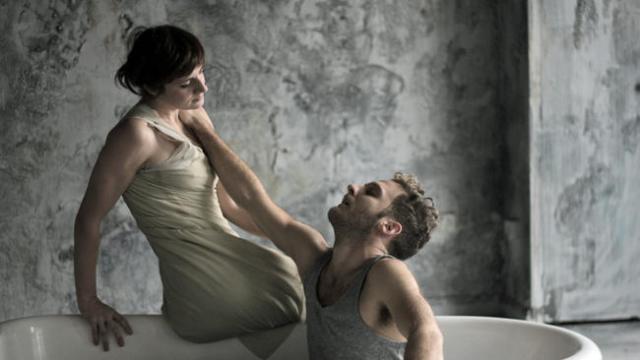 Director:
Annie Saunders & Sophie Bortolussi
Review:
Working out of a dreary ex-machine shop in an equally dreary section of downtown, industrial L.A. (which is slowly being gentrified), a company called Wilderness is making theatrical magic with a play called The Day Shall Declare It. The setting suits the material, which is derived from interviews in Studs Terkel's "Working" and from various bits of dialogue culled from some of Tennessee Williams's lesser-known works (such as Moony's Kid Don't Cry and Talk to Me Like the Rain). The play also quotes from his essays, stories and poems.
Annie Saunders and her two fellow-actors, Anthony Nikolchev and Chris Polick, have woven these excerpts into a seamless, smoothly flowing whole, which they act out in various parts of the site while the audience follows them around, immersed as it were in the action (sometimes with the actors coming up and whispering in their ears).
Don't think for a moment that any of this is poetic in an artsy-fartsy way. What Williams and Terkel — and indeed, the Wilderness company — are concerned with is the concept of work in America: what it does for and to us. The point of view is decidedly proletarian: working-class people stuck, for the most part, in shit jobs which grind them down, wreck their home lives, turn them into drunkards and brawlers and burnt-out victims.
This is the dark side of the American Dream, the result of centuries of capitalist exploitation and indifference, and it is served up to the audience in short, brutally honest and raw scenes: confrontations between workers and bosses, husbands and wives, hookers and their johns. All of these scenes are brilliantly choreographed as well (by Bortolussi), with the actors moving, writhing and clashing with athletic grace and power, doing miraculous things as well with such set pieces as an old iron-clawed bathtub.
The Day Shall Declare It premiered in the abandoned BBC London Studios building in 2014 and was called "demanding, intelligent and memorable theatre" by one British critic. Crucial development support there came from Theatre Delicatessen and the Bush Theatre. All three of the actors in this staging were part of the London production, which would explain how polished and magical their L.A. performances are, "physical" acting at its best.
Two other local production companies contributed to The Day: Los Angeles Performance Practice and HeLo, whose expertise is "storytelling, experience design and creative technology." John Zalewski's original music and sound design also have helped create the gritty, nightmarish world being explored by these gifted and daring theater artists.
Cast:
Anthony Nikolchev, Chris Polick, Annie Saunders
Technical:
Set: Nina Caussa; Lighting: Iain Court; Music/Sound: John Zalewski; Costumes: Stephanie Petagno & Clare Amos; Technical Director: Ian Palmer