Images: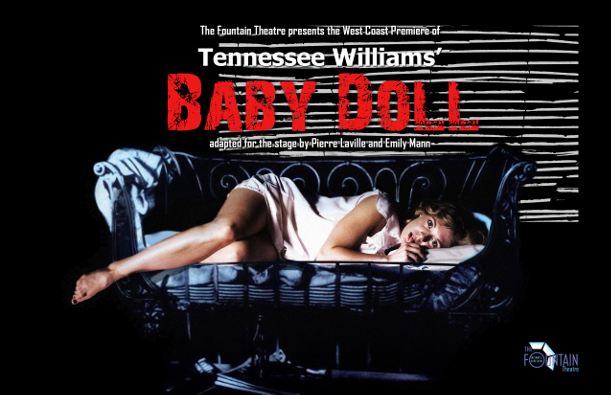 Review:
The Fountain Theater's West Coast premiere of Baby Doll is based on Tennessee Williams's 1956 screenplay as adapted for the stage by Pierre Laville and Emily Mann. In its previous Williams incarnations, Baby Doll was first a short story, then a one-act play (both called "27 Wagons Full of Cotton"). This is only the second time the Williams estate has given permission for the adaptation to be staged, making it something of a coup for the Fountain.
The film's history has a lurid side to it. Its poster image of Baby Doll (the semi-naked Carroll Baker) lying in a crib sucking her thumb was denounced as "salacious" and "morally repellent" by Cardinal Francis Spellman, the Archbishop of New York, who (before the film was even released) declared that Catholics would be committing a sin if they saw it.
In the Fountain's production Lindsay La Vanchy, a gifted LA-based actress, plays Baby Doll, the 19-year-old virgin who is married to the nasty, racist owner of a Mississippi cotton gin, Archie Lee Meighan (the powerful John Prosky). There is a wacky side to the marriage: Archie agreed not to have sex with Baby Doll until she turned twenty, in return for a promise to provide her with a comfortable life. With only two days to go, Archie Lee oozes lust from every pore every time he eyes his blonde, nubile wife.
Baby Doll, who has been kept a virtual prisoner in his dilapidated plantation house, dreads the thought of going to bed with Archie Lee, having come to dislike, even despise, her foul-mouthed, possessive husband. Part-child, part-woman, Baby Doll is yet another of Williams's complex, conflicted, yearning female characters — and the heart and soul of the play.
The final side of the love triangle is provided by Silva Vacarro (the fine Daniel Bess), a Sicilian immigrant who owned a rival cotton gin. When Archie Lee burns down the wop's mill (his words) to save his own failing business, Silva comes looking for revenge.
One way of getting it, he realizes, is by seducing Baby Doll. When Archie Lee inexplicably leaves him alone in the house with the nightie-clad young girl, a sexual cat-and-mouse game ensues. Silva, being Italian and hot-blooded (he boasts), comes on strong. Baby Doll responds, only to pull back at the last minute out of fear of discovery and punishment. At the same time, she is delighted to discover the power she has over him — and doesn't hold back from taunting and teasing him. Silva knows she's playing him but fights to keep his cool, if only because of an ulterior business motive.
Moving in and out of the action is Baby Doll's aunt Rose (Karen Kondazian), a batty old lady who provides a lot of badly needed comic relief. Kondazian, who has starred in numerous Williams productions, including a 1979 production of The Rose Tattoo for which she received a Drama Critics Circle Award, is a scene-stealing hoot.
All the steamy sexuality and macho jousting lead to a violent, explosive end. But out of all the smoke and heat of battle emerges a singular figure, Baby Doll. Having shed her girlish idiosyncrasies and fantasies, she has managed to grow up, become an adult, a woman. The Fountain's lavish, excellent production does Williams proud.
Cast:
Lindsay LaVanchy, John Prosky, Karen Kondazian, Daniel Bess, George Roland (as the Sheriff)
Technical:
Set: Jeffrey McLaughlin; Lighting: Ken Booth; Sound: Peter Bayne; Costumes: Terri A. Lewis; Props: Terri Roberts; Dialects: Tyler Seiple; Fight Direction: Mike Mahaffey