Images: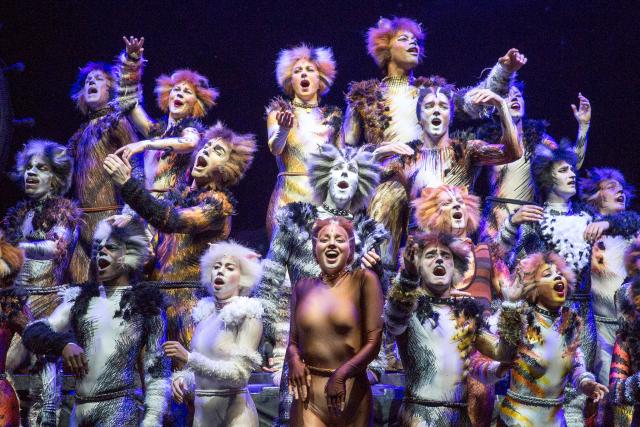 Company/Producers:
The Shubert Organization, James L. Nederlander, The Really Useful Group, Cameron Mackintosh
Choreographer:
Original: Gillian Lynne. Adapted: Andy Blankenbuehler
Review:
Feline lovers, rejoice! Cats is back in town. The original production was highly touted in London before brought to Broadway in 1982. It made history by being performed for a record 18 years, some 7,485 performances in all. Only The Phantom of the Opera tops it in Broadway longevity. This production is a bit leaner; the theater is smaller than The Winter Garden, and the orchestra has been diminished. The choreography is more balletic, and therefore a bit more catlike, and a nod has been given to political correctness with the deletion of a possibly insensitive "Asian" number by Siamese cats. But all in all, the show remains the same, cloying to some, purrrfect to others. As the audience enters the theater, there are exclamations of delight at the walls filled with shabby artifacts; the stage itself is a varietal junkyard.
While it's difficult to single out any performer from the gifted ensemble, Georgina Pazcoguin of the New York City Ballet brings a special grace and elegance as Victoria, the white cat. She exudes sexuality and is astonishingly limber; any kitty would be proud to be as energetic and adorable. Pop star Leona Lewis is not quite beat up enough as Grizabella; a couple of cans of tuna and a good brushing are all that seems required to spiff her up.
The raunchy Rum Tum Tugger of Tyler Hanes has rock star moves, and Ricky Ubeda brings Mister Mistoffelees roaring to life. Quentin Earl Darrington is a wise and kindly Old Deuteronomy, the sage of the Jellicle Ball whose duty it is to elevate the chosen cat to a second chance.
Listening to the audience, it's interesting to note that a great many foreign accents and languages are in evidence. Likewise, the age range covers the spectrum from those who remember the show the first time around to enthralled youngsters. One adorable little girl sported a headband with tiny kitten ears; she was a favorite of the troupe as they sashayed up and down the aisles. This open-ended run will no doubt become a tourist attraction, and I predict that more than one Christmas tree will have Cats tickets included with the other gaily wrapped presents.
Cast:
Giuseppe Bausilio, Quentin Earl Darrington, Jeremy Davis, Kim Faure, Sara Jean Ford, Lili Froehlich, Daniel Gaymon, Shonica Gooden, Christopher Gurr, Tyler Hanes, Andy Jones, Kolton Krouse, Eloise Kropp, Leona Lewis (thru 10/9), Jess LeProtto, Georgina Pazcoguin, Emily Pynenburg, Ariana Rosario, Ahmad Simmons, Christine Cornish Smith, Corey Snide, Emily Tate, Ricky Ubeda , Sharrod Williams
Technical:
Lighting: Natasha Katz, Set/Costumes: John Napier