Images: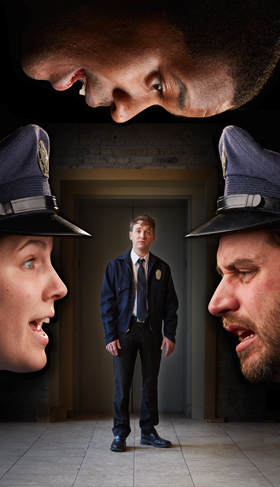 Company/Producers:
Milwaukee Chamber Theater
Theater:
Milwaukee Chamber Theater
Website:
milwaukeechambertheater.com
Review:
This isn't the first time Milwaukee Chamber Theater has launched a production of Kenneth Lonergan's 2001 play, Lobby Hero. But the interpretation of the main character, a security guard whose actions don't exactly make him a "hero," is vastly different than what was presented in its original production.
When MCT opened its production more than a dozen years ago, Lobby Hero was the launchpad for a now-familiar local actor, Gerard Neugent. He played Jeff the security guard as a hilarious scapegoat and unavoidable ally (because he has to physically stay at his desk in the lobby). The overall effect, if memory serves, was that of a true comedy. But that current version demonstrates that there's much more in the playwright's message. The current version is a much more thoughtful look at the lives of working-class New Yorkers. The play is still funny – to be sure – but it demands that audience members ask themselves, "what would I do in the same situation?"
Lobby Hero premiered Off-Broadway at two different theaters in 2001; a more recent New York production came in 2011 at the T. Schreiber Studio and Theater in Chelsea. The play is set in New York, and some of the humor is clearly aimed at New York audiences.
The plot points in Lonergan's play are timeless. There's William, a black supervisor of the security firm hired by a mid-level Manhattan apartment building. When talking to Jeff, William (played with appropriate stiffness by Di'Monte Henning) proudly announces that he is the youngest person in the firm's history to be named a "captain" (i.e., supervisor). This statement fails have the desired effect of impressing Jeff (Chris Klopatek). A slacker in his mid-twenties, Jeff is more interested in regaining his own dignity and independence. Heavy gambling losses forced him into debt and landed him a spare bedroom in his brother's house. He sees his security job as a short-term fix to get him out of debt and into his own place.
Given that the entire play takes place in the late evening, it's not surprising that the other two characters are beat cops assigned to Jeff's building. The older cop, Bill (Andrew Edwin Voss) has become friends over the years with William, whom he often encounters while on his beat. Accompanying Bill is an attractive female rookie, Dawn (Sara Zientek). Only a few months out of the police academy, Dawn has learned that having an older and well-respected male partner has its advantages (as well as its pitfalls, she soon discovers).
All of the characters face moral and ethical dilemmas that intersect during the two and one-half hour play. William, who claims to be invested in honesty and moral integrity, is put on the spot by a ne'er-do-well brother who has implicated William as an alibi for a heinous crime the brother has probably committed. In Henning's strong performance, we see William struggle with telling the truth while at the same time fearing that his brother won't get a fair trial – just because he's black and too poor to hire a "good lawyer." In this case, the stakes are high: a young nurse is murdered in a botched hospital pharmacy robbery. Since William has "no one to talk to" about the situation, he confides in Jeff. This is a mistake, as Jeff is not one who is able to keep confidences or even say the right thing.
The first instance of Jeff's poor judgement comes soon after the police officers enter Jeff's apartment building. Bill tells his young partner to wait in the lobby while he "visits a friend upstairs." Jeff is all too eager to impress the rookie by telling her what Bill is probably doing up there with the female tenant. Jeff has no idea that the rookie also has had some off-duty, romantic interludes with Bill, a married man. Although Jeff realizes his comments have the exact opposite effect on the female officer than he intended, it fails to wake him up about keeping his mouth shut. Jeff knows too much about what is happening in the building and also with his supervisor, and he passes time by sharing the information with all the wrong people. Still, actor Chris Klopatek (as Jeff) manages to maintain the audience's sympathy despite his obvious flaws. Who among us hasn't unintentionally "spilled the beans" during a lull in conversation?
In his further attempts to impress Dawn, he tells her he wants to rise in the ranks as an advertising executive. However, Dawn has her own future to worry about. Recently, she made a split-second decision to use her baton to break up a fight between two drunks outside a bar. The man subsequently was rushed to the hospital, and Dawn fears he is going to permanently lose sight in one eye. And, since she is still on probation, this incident may end her career if her partner doesn't back up her version. (In this delicately woven performance, Zientek both shuns and accepts her femininity).
As the senior cop who seems to be holding all the cards (at least for a while), Andrew Edwin Voss is so realistic in his movements, speech and mannerisms that one wonders whether his past actually included police officer training. Voss and Zientek are to be commended for maintaining a palpable tension between them. It also should be noted that they are the only cast members who attempt a Lower East Side New York accent.
Director C. Michael Wright, the company's producing director, keeps the audience so tightly focused on the progress of the characters' difficult scenarios that the audience almost feels cheated when the play ends without any resolution. That's the mark of a good play, and it's one reason this production is a not-to-be-missed event.
Cast:
Di'Monte Henning (William); Chris Klopatek (Jeff); Andrew Edwin Voss (Bill); Sara Zientek (Dawn).
Technical:
Set: Stephen Hudson-Mairet; Costumes: Kristy Sneshkoff; Lighting: Steve White; Sound: Terrance Barrett.