Images: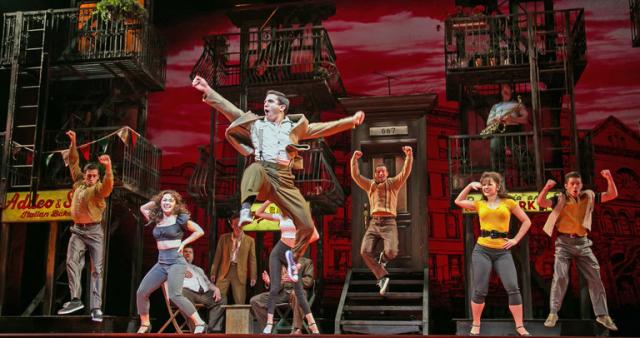 Company/Producers:
Tommy Mottola, The Dodgers, Tribeca Productions, Evermere Entertainment
Director:
Jerry Zaks w/ Robert DeNiro
Review:
A Bronx Tale is very much a story for our times. At first glance, it seems to be an absorbing remembrance, well told, about the coming of age of a young New Yorker. But at its heart is a question which takes on the morality of modern-day America. When the Wall Street Journal asked Donald Trump if his rhetoric had gone too far in his campaign, the President Elect answered "No. I won." So…is it now anything goes when it comes to getting what you want? This is at the crux of the argument between gangster Sonny (Nick Cordero) and blue-collar Lorenzo (Richard H. Blake) as they fight for nothing less than the soul of young Calogero (Hudson Loverro), Lorenzo's son. They live in a tough section of the city, where "the worst thing you can be is a rat." So when Calogero sees Sonny shoot and kill a man, he tells the police who set up an impromptu lineup that Sonny's not the one.
This wins him the favor of the mobster, who decides to take the kid under his wing. An interesting side note is that later, when Sonny sings about a woman who is "one of the great ones," Calogero's mother Rosina (Lucia Giannetta) appears. The theme isn't explored, but could Sonny have positive feelings partly because of past affection for the mom of the boy he calls "C"?
Sonny's world is flashy and attractive to a kid, especially since C finds that doing mob-related errands is lucrative. As he grows older, Calogero (now played by Bobby Conte Thornton) goes ever deeper into Sonny's pocket, and starts to believe the Machiavellian quotes the gangster spouts, "It's better to be feared than loved." He also starts to believe that the Working Man, like his dad, is a sap. Lorenzo is more than a little worried; his son is definitely being drawn to the dark side more and more.
Love enters in the form of an attractive black girl, Jane (Ariana Debose), but interracial relationships are taboo in both the Italian and the African-American communities. That Jane's brother Tyrone (Bradley Gibson) considers Calogero one of the gang who beat him up just complicates things. In fact, the white boy helped him, but Tyrone is too angry to care.
A series of difficult events bring harsh realities home to Calogero, and he makes his choice about the kind of man he wants to be.
A Bronx Tale is loaded with supremely gifted performers; the singing and dancing are as good as the acting, and that's saying a lot. A word of gratitude for the quick pace; of course the directing is superb. How could we expect anything less? The music adds to the story; the score is impressive. I've never seen the movie version, so I can't tell if those who have seen it are more or less enamored by the Broadway avatar. You don't have to love New York, or remember the '60's with fondness to appreciate this production. But be prepared to enjoy this trip back in time and memory, and to emerge from the theater in a New York state of mind.
Cast:
Nick Cordero, Richard H. Blake, Bobby Conte Thornton, Ariana DeBose, Lucia Giannetta, Bradley Gibson, Gilbert L. Bailey II, Joe Barbara, Michael Barra, Jonathan Brody, Ted Brunetti, Brittany Conigatti, Kaleigh Cronin, Trista Dollison, David Michael Garry, Rory Max Kaplan, Dominic Nolfi, Christiani Pitts, Paul Salvatoriello, Joey Sorge, Cary David Tedder, Kirstin Tucker, Keith White, Michelle Aravena, Gerald Caesar, Charlie Marcus, Wonu Ogunfowora, Hudson Loverro, Joseph J. Simeone
Technical:
Sets: Beowulf Boritt, Costumes: William Ivey Long, Lighting: Howell Binkley