Images: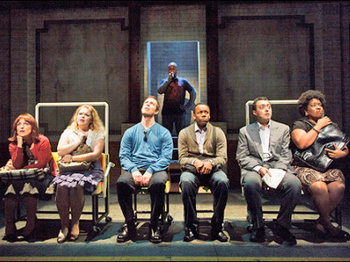 Review:
There's no instrument on Earth that's more beautiful, more moving, and more versatile than the human voice. In Transit uses no other devise to transmit the music of the show. Fortunately, the singers are all talented, and the beat-box rhythm of the character known as Boxman (Chesny Snow) is perfectly on point. The plot revolves around people facing different issues of change and crisis in their lives. Except for a few office scenes, the entire show takes place at a subway station, on a ¾ thrust stage. As Boxman explains, the people we meet will spend approximately one month out of the year going to and from work and other destinations.
As played by Margo Seibert, Jane is the character who resonates most deeply. She works as an office temp to pay the bills, but in her heart, she's "an actor…or actress…or whatever we're supposed to say." She echoes the yearning of so many who want a career in show business, "I do what I really don't do so I can do what I do." Bright and capable, at 33 she'd be at the top of her game in most other fields, but nothing else really interests her.
She has a "meet cute" with Nate (a very appealing James Snyder), but is discouraged when the phone number he's given her is not in service. Nate is having his own problems; he's recently discovered that honesty is not always the best policy when dealing with the boss. He's out of work and out of money, and while romance would be great, there are more pressing needs on his mind.
Ali (Erin Mackey) has made some bad choices. She's blown off grad school to go clear across the country, choosing love over education. It's over, and now she's devastated. She does whatever she can to alleviate the pain, including running the New York marathon, but with little success.
Trent (Justin Guarini) and Steven (Telly Leung) don't have work or money problems, but a major stumbling block to their happiness is the fact that Trent can't bring himself to tell his super-religious mother in Texas that he and Steven are deeply in love and want to get married. Momma is brought to life by the sensational Moya Angela, who plays two other roles, as well. She loves her son, and yes, deep down she knows, but the truth will upset her very stringent beliefs of right and wrong.
Most of the characters, some in suits, some in casual attire, are interrelated, and that's at the crux of the story. No current production presents New York better than In Transit. Here's a cross section of the anything-but-homogeneous population. Black, White, Asian, male and female, gay and straight, all going about their lives with their own problems, dreams, and perception of everyday events. This mixture of individuals all thrown together in the pulsing, crazy city that never sleeps is what makes New York great.
Cast:
David Abeles Moya Angela, Steven "HeaveN" Cantor, Justin Guarini, Telly Leung, Erin Mackey, Gerianne Pérez, Margo Seibert, Chesney Snow, James Snyder, Mariand Torres, Nicholas Ward
Technical:
Sets: Donyale Werle. Costumes: Clint Ramos, Lighting: Donald Holder