Images: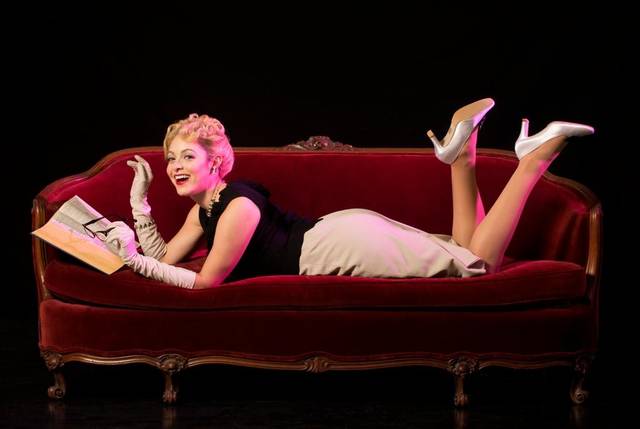 Theater:
Asolo Repertory - Mertz Theater
Review:
Though it is a laugh-out-loud comedy, director Peter Amster has made sure that Born Yesterday is no less a serious political revelation. As such, it belongs in Asolo Rep's current line up of plays concerning America's government. After two about executive and judicial branches, this one targets the legislative one. Highlighting the metamorphosis of a woman who's never voted into a concerned citizen because a journalist teaches her about America's history and government, Garson Kanin's play set in 1946 D. C. illuminates today — same place, same problems.
A dealer in junk, power-mad Harry Brock hits his posh Washington hotel suite like a whirlwind to work out the crooked deal of his life. Norman Boucher inhabits hardboiled Brock like a second skin. "Nobody ever gave me nothin'," he says, and it's clear he won't stand for anything in the way of the power and money he wants. His weakest moment is admitting — under his breath — he's crazy about his mistress Billie, but that won't stop him from violence toward her. (In rep, Boucher currently plays the first Mayor Richard Daley, another man who loved power, with an extraordinarily different skill that divorces Daley from a Harry Brock obsessed also with money.)
As Billie Dawn, Christine DeCicco couldn't be better. A former chorus girl, she's "put out" in order to take in expensive clothes and jewels, the best of food and drink, and life in fancy places with servants and hotel staffs who work to please. Brock hires a writer to make her "fit in." She learns American history and politics but also thought and taste, responsibility and reliance on the strength of her convictions. On the way to change, though, DeCicco's Billie is a hoot winning games of gin and makes using a dictionary very funnily effective.
Though Brock's always relied on his lawyer Ed Devery to preserve his power and wealth legally, Brock the bully customarily berates him. Eric Hissom conveys well how Devery's divided between shame for knowing he's stooped low and desire to continue to "earn" the money Brock gives him. Maybe the power Devery feels from legally arranging shady deals also motivates him, but he pays for it by downing alcohol and to an increasingly heavy degree. (Hissom convinces as a drunk, not overplaying the physical manifestations of drinking as actors too often do.)
Jacob Sherburne is Brock's cousin Eddie and go-fer, relentless in his toadying mixed with a mean streak that enables him to get physical without a thought. Under the guise of gentile U. S. legislator, Senator Hedges provides compromises Brock needs (and pays) for his deal. Don Walker's Hedges is a realistic compromiser. On a social visit to Brock and Billie, he and his wife (Denise Cormier, rightfully puzzled) are comically upset.
Though he convinces as a writer who knows political history, Christopher Kelly as Paul Verrall is, on the whole, rather bland. His love for Billie Dawn doesn't set off sparks. The young males in the ensemble seem livelier. All the supporting cast members work well.
Technically, costumes merit the most attention. Billie Dawn's not only reflect her taste but her changing self throughout — from a splashy but not gaudy dressy red outfit with matching heels to a tailored white blouse and black slacks for studying. The men's clothing bespeaks their stations, and the grand hotel uniforms are just right for the era. Lighting and sound, especially musical breaks, add to the atmosphere.
Cast:
Christine DeCicco, Norm Boucher, Christopher Kelly, Jacob Sherburne, Eric Hissom, Don Walker, Denise Cormier, Jillian Courtney, Rob Glauz, Wyatt McNeil, Mike Perez, Michael D. Fisher, Brandon Maldonado
Technical:
Set & Costumes: Robert Perdziola; Lights: Christopher Ostrom; Sound: Matt Parker; Hair & Make-up: Michelle Hart; Production Stage Mgr.: Kelly A. Borgia; Stage Mgr: Nia Sciarretta