Images: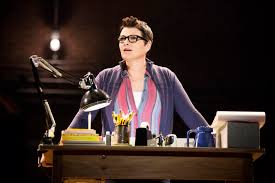 Company/Producers:
Center Theater Group/Fox Theatricals/Barbara Whitman
Review:
Fun Home, the Tony Award-winning musical, sheds light on the sad/funny history of yet another dysfunctional American family. In this one, the father, Bruce (Robert Petkoff), is a closeted homosexual, the mother, Helen (Susan Moniz), is a silent, sad witness, and the eldest daughter, Alison (Kate Shindle), is a mixed-up, teenaged lesbian.
That's only one aspect of the multi-leveled story, which is based on the confessional graphic novel by Alison Bechdel. As adapted by librettist Lisa Kron and composer Jeanine Tesori, Fun Home zigzags between past and present, with two other young actresses (Alessandro Baldacchino and Abby Corrigan) portraying Alison at different times in her life. Mostly, though, the musical centers on the adult Alison, now a cartoonist, as she tries to write about, and make sense of, her bizarre history, one in which her father committed suicide and her mother was overwhelmed by guilt.
Yet, despite all this angst, Fun Home also manages to reveal that the family had some good times together, times in which there was closeness, intimacy, laughter. The three-dimensional treatment of character and situation is what gives the piece its complexity and richness, as well as its power and originality. These are rare qualities in a musical and no doubt account for its popularity and success.
Essentially a story about a father who can't muster up the courage to live his life as honestly and bravely as his daughter does, Fun Home is filled with catchy music and song, everything from a raucous satire of 70s TV commercials to the tender a cappella lullaby Bruce sings to his daughter. Tesori proves here that she is one of the most versatile and adventurous theater composers working today.
Fun Home may be a road-company production, but its cast and direction are first-rate. Ditto David Zinn's multi-level set and Micah Young's eight-person band, which attacked Tesori's music with great glee and zest.
Cast:
Robert Petkoff, Susan Moniz, Kate Shindle, Abby Corrigan, Alessandra Baldacchino, Carly Gold, Karen Eilbacher, Robert Hager, Lennon Nate Hammond, Pierson Salvador
Technical:
Set/Costumes: David Zinn; Lighting: Ben Stanton; Sound: Kai Harada; Orchestrations: John Clancy; Music Director: Micah Young