Images: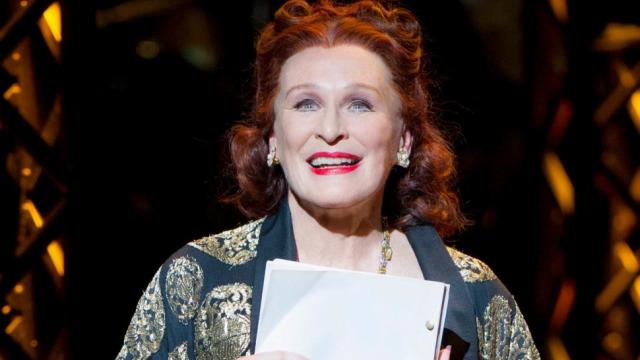 Website:
palacetheatreonbroadway.com
Review:
To say that Glenn Close brings down the house during the musical Sunset Boulevard is almost an understatement, as the hoots, hollers, and applause — I even heard a bravo or two — offered by her admirers shook the very rafters of the Palace Theater after every number she sang. And that was not the end of it. At curtain call, the now-standing audience celebrating Close's return to the iconic role of silent screen star Norma Desmond after a 22-year Broadway absence — both the musical and Close won a Tony in 1995 — just about refused to let Close leave the stage.
Did the ever-triumphant actress lap it up in great style? You betchum! With outstretched arms lifted towards the heavens – in this case, the orchestra, mezzanine and balcony – seemingly channeling Norma Desmond herself, the sixty-nine year old Close, looking a good twenty years younger than her age, let us know that she was thrilled to be back on Broadway stage where she belongs. No doubt her sensational performance will trigger an avalanche of movie and play offers.
While this current production of Sunset Boulevard which runs through June 25, 2017 had its opening at the English National Opera in London last year, the fabled story first saw the light of day with Billy Wilder's 1950 Hollywood film starring Gloria Swanson in what is considered her greatest role. Coming out of retirement, Swanson's mesmerizing performance, though nominated for an Oscar, lost out to newcomer Judy Holliday in "Born Yesterday." Also kicked to the curb by academy voters was Bette Davis in "All About Eve," another iconic diva role.
The gravitas of Wilder's "Sunset Boulevard," wisely filmed in black and white which added a noir patina to the film, is in its brilliant casting of Swanson as the silent-screen actress eager to return to the screen. In real life experience alone, Swanson is Norma Desmond. Added to this mix was Wilder's savvy choice of casting world-weary William Holden as Desmond's down and out script-writer boytoy and Eric Von Stroheim, who had had previously directed Swanson in "Queen Kelly" (1928), as her faithful butler cum caretaker.
For authenticity, which added layers of historical resonance, Wilder cast the film's subsidiary roles with well-seasoned yesteryear actors and celebrities such as Buster Keaton, H.B. Warner, Anna Q. Nilsson, and playing themselves, Hedda Hopper and Cecil B. DeMille, all of whom cut their teeth during the age of talkies.
Quite surprisingly, I found the 1950 movie version of "Sunset Boulevard" in its entirety on YouTube. And Yes, Swanson's performance is simply hypnotic. It is a must-see on a large flat screen if you've got one.
Following the film somewhat faithfully, the Broadway musical opens, after a rousing Andrew Lloyd Webber overture played by a 40-piece onstage orchestra led by Kristen Blodgette, with Joe Gillis (Michael Xavier) narrating the story from beyond the grave. Doing double duty, Xavier plays both Desmond's alive and now dead-in-the-pool script-writing lover. To highlight this fact, lest we forget, suspended from the ceiling is a full-body replica of the dead floating Joe.
Also, helping the audience visualize the story more effectively by bringing them back in time (more so since the orchestra is taking up most of the stage, and the set, aside from a few pieces dragged on and off, consists mainly of industrial metal scaffolding, stairs, and platforms that serve as playing areas), are a series of flavorful Hollywood film clips from the 1940s. Equally location-setting is a large photo image of the iconic Hollywood sign which occupies the rear of the set.
The story, though operatic in the heights it hits, is rather simple. The life-changing, life-taking ramifications which give the story dramatic heft are a lot less so. Gillis, a minor script writer who is broke, behind in his rent, and out of a job is being chased by two dangerous-looking men hell-bent on repossessing his car for non payment, if not breaking both his legs. Turning into what appears to be an abandoned estate to avoid being caught, unbeknownst to Joe, he ends up at the home of silent screen star Norma Desmond.
Ushered into the mansion by Desmond's butler Max von Mayerling (Fred Johanson), who mistakes Joe for the expected funeral director, he comes face to face with Norma. who is bending over what appears to be a dead body. Norma is deep in mourning for her beloved chimpanzee.
Before long, Gillis and Norma are intricately intertwined; he for want of a job, her for Gillis's his script-writing abilities. It seems that Norma has been working on a script for years and needs help. It is the story of Salome. Never mind that Salome is a young girl and Norma is fifty, she envisions that this is the role that will return her to the silver screen, in all her glory, after a 20-year absence.
Giving Joe a lesson on silent films, Close sings "With One Look," one of the musical's three show-stoppers. "With one look I can break your heart" she sings. "With one look I play every part. I can make your sad heart sing. With one look, you'll know all you need to know. With one smile, I'm the girl next door or the love that you hungered for. When I speak, it's with my soul. I can play any role." Yes, Norma, fixated on her moment of greatness, a greatness long gone, is living in her past.
Intrigued, as well as overwhelmed by Norma's larger-than-life persona, as well as her seductive offers — money, a job, and a ritzy place to stay is dangled before his eyes — the weak-willed Gillis, soon to be tethered to Norma's script and bed, is somewhat reluctantly convinced to move into the Norma's mansion at once. Thus begins the story's downward spiral.
Though Michael Xavier is actually on the stage a lot more than Close, it is Close who rules the roost. Xavier's multi- function, besides narrating the story's events is catering to Norma's every whim and that includes love-making. He also supplies, which the audience gets to ogle over, the male beauty quotient. Here he gets to show off his well-toned body as he exits the pool.
In the beginning of act two, Joe does get to sing "Sunset Boulevard," his only solo number. Revealing his innermost thoughts while hinting at his ending he sings, "And if I'm honest, I like the lady / I can't help being touched by her folly . . . / She was sinking fast, I threw a rope / Now I have suits and she has hope . . . / One day this must end, it isn't real. Still I'll enjoy a hearty meal / Before tomorrow's execution."
The other characters include Max, Norma's majordomo, and Betty Schaeffer (Siobhan Dillon), an unrealized love interest of Joe's that he met at the movie studio. He even sneaks out on New Year's Eve to see her. Joe's friend Artie Green (Preston Truman Boyd), and Cecil B, DeMille (Paul Schoeffler) — though integral to the story, have a lot less to do and a lot less stage time to do it in.
Acting as filler are the ensemble actors whose most prominent moments come during a New Year's party filled with some of Joe's Hollywood studio friends, as well as on the movie studio's backlot. There are a couple of near-forgettable dance numbers choreographed by Stephen Mears. One eye-catching dancer, singer, actress ensemble member who stood out from the others — actually a white light seemed to highlight every time she graced the stage — was Katie Ladner whose bio informs us that this is her Broadway debut. And a great one it is!
Obviously Close is the magnet that is filling the house — the musical has already been extended a month — and everything, from her glittering silver and gold lame wardrobe (Anthony Powell), makeup (Charlotte Hayward), wigs (Andrew Simonin), the set (James Noone), and even the other actors in the play who mostly fade into the background when Close is on stage, play second fiddle to her electrifying presence which at times threatens to ignite the theater. That doesn't stop them from giving their all.
To see Close in action is what it is all about. She understands both the character and the silent-movie style — over-the-top and larger than life — but always real. Though skating close to the edge of parody, Close never lets Norma become a laughable character thanks to her commanding portrayal that always hints at something unstable and uncontrollable behind Norma's face that prevents us from laughing at her. Watching Close holding Norma at the edge of madness for most of the play before letting her slip is, alone, worth the price of the ticket.
The most moving moment in the play occurs when Norma, believing she has been summoned by Cecil B. DeMille to discuss her Salome and her return to the silver screen. Dressed to the nines with her script held tightly, Norma has Max drive to her old studio. She is ignored by everybody bustling about (DeMille is there filming "Samson and Delilah") until an old-time crew member calls out her name and shines a spotlight on her face. One by one, the actors and stagehands fall silent as Norma, basking in the light, with evidence fear and joy on her face, sings the show's best number, "As If We Never Said Goodbye."
"I don't want to be alone / That's all in the past / This world's waited long enough / I've come home at last!"
At this point my, tears flowing, my heart was pulled from my chest.
Cast:
Glenn Close, Michael Xavier, Siobhan Dillon, Fred Johanson, Nancy Anderson, Mackenzie Bell, Preston Truman Boyd, Barry Busby, Britney Coleman, Julian Decker, Anissa Felix, Drew Foster, David Hess, Brittney Johnson, Katie Ladner, Stephanie Martignetti, Lauralyn McClelland, T. Oliver Reid, Lance Roberts, Stephanie Rothenberg, Graham Rowat, Paul Schoeffler, Andy Taylor, Sean Thompson, Matt Wall, and Jim Walton
Technical:
Set: James Noone: Costumes: Tracy Christensen: Glenn Close Costumes: Anthony Powell; Lighting: Mark Henderson: Sound: Mick Potter: Wig, Hair & Makeup: Dave Bova & J. Jared Janas