Images: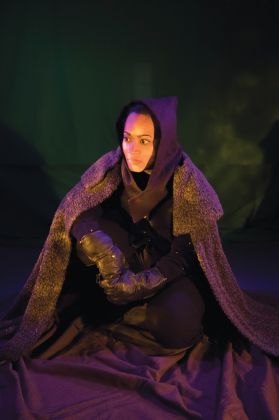 Company/Producers:
Babes with Blades Theater Company
Theater Address:
1020 West Bryn Mawr Avenue
Review:
"To be, or not to be" may come to mind initially, but this is not the question most often asked in Shakespeare. In play after play, from Macbeth to Coriolanus, the argument's focus is what best constitutes leadership in time of war versus desirable traits for leadership in time of peace. History — whether that of the author's country or our own — evidences the rarity of a single person possessing the talents for both.
Barely halfway into our story, to be sure, we have no doubts regarding young Henry Plantagenet's capabilities as a military commander. So fiercely do his armies fight, spurred by his fiery rhetoric, that he only has to threaten the French seaport of Harfleur with a second attack to secure their surrender. Indeed, the latter half of Henry V is almost wholly devoted to the decisive battle of Agincourt — not simply showcasing its feats of bravery and knavery, but examining the manner in which England's monarch implements the skills that he will apply following his victory: infiltrating the campgrounds incognito in order to assess the morale of his soldiers, for example — the better to address their concerns on the morrow — or putting aside expedience to contemplate the consequences of judgments rendered in haste. By the time he faces the prospect of a treaty by marriage, his diplomacy at courtship ultimately transcends even language barriers.
For audiences attending this Babes With Blades Theater Company production, Shakespeare's panoramic view of international conflict — seen from the perspective of foot soldiers, field officers and generals alike — deliver abundant thrills and excitement, along with a few laughs at the expense of the soon-to-be-defeated French.
First, though, comes the chronicle of events leading to the military campaign under scrutiny — expository recitation of a length and dryness wittily acknowledged by director Hayley Rice through the role of "Chorus" portrayed as a harried middle-school teacher lecturing with the aid of an overhead projector.
No classroom monitors are needed to keep us alert whenever Diana Coates (whom playgoers may recall from the recent House that Will Not Stand at Victory Gardens) takes the stage, however. Surrounded by a uni-gender cast speaking almost exclusively in treble key, her contralto vocal range and nuanced text interpretation inspire confidence and charisma with every word.
War may be brutal — as Kim Fukawa's combat choreography never flinches from reminding us — but that doesn't stop us rallying behind a hero endowed with so much of the right stuff.
Miscellaneous:
This review first appeared in Windy City Times, 3/17