Images: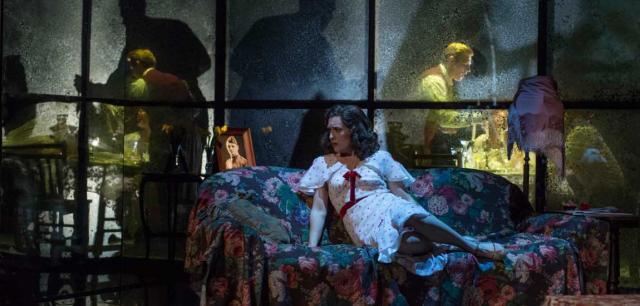 Company/Producers:
Milwaukee Repertory Theater
Theater:
Milwaukee Repertory Theater - Quadracci Powerhouse
Review:
In discussing his history with directing The Glass Menagerie, Milwaukee Repertory Theater Artistic Director Mark Clements recalls his first production many years ago, when he was much younger. In that version, Clements said he identified the most with Tom, the young man trying to create his own artistic voice and, at the same time, see the world. Now, as the father to a young child, Clements says he can emphasize more with Amanda, who tries to protect her children from the world.
This shift in perspective is evident in the current Milwaukee Rep version, although the character of the mother, Amanda, doesn't detract from the main character and narrator, her son, Tom. Amanda (played wonderfully by Hollis Resnick) continues to descend in the emotional spiral that caused her husband's abandonment years ago. She also is unable to stop the constant pestering that now threatens to repeat itself with Tom.
This play, the most autobiographical play written by the late Tennessee Williams, is set in St. Louis in the 1940s. The play was a hit when it opened on Broadway in 1945, winning the New York Drama Critics Circle Award that year. It set the course for Williams to earn enough financial backing to fund the future plays for which he is also well known.
In the Milwaukee production's opening scene, in which Tom introduces himself as both the narrator and protagonist of the play, is the bleakest this reviewer can recall. Tom (a tall and appropriately skinny Ryan Imhoff) speaks the introductory monologue in a monotone voice. He visually indicates the play's memory theme by seeming to grasp the somber background music and stuff it into his pocket.
In a clever theatrical device, the "narrator" Tom appears in a wool cap and pea coat (which he undoubtedly will wear in later life). When Imhoff turns into the "character" of Tom, the cap and coat come off. Imhoff, as Tom, physically indicates the poverty in which his family lives. He doesn't long for food as much as he does the movies, where he goes almost every night to escape.
Still, Tom is stalwart in his role as the family breadwinner. He labors daily in the warehouse of a shoe factory; his wages barely sustain the family. This stultifying environment is relieved only by periodic breaks, in which Tom dashes off to write poetry. Tom was left with this role when his father suddenly disappeared, the man who famously "fell in love with long distance."
In Milwaukee's set design, a table portrait of the father is always present and often is lit in an illuminating glow. A much larger projection of the same photo hangs over the apartment where his family lives. Although the father (who is never seen) may have left his family, his wife never leaves behind her mostly bitter memories about him.
In one scene, Amanda wistfully recalls her younger days and all the suitors who traveled to her home. As she does, actor Hollis Resnik seems to miraculously soften her face into that of a much younger woman. Amanda talks about gathering both jonquils and beaus, warming to each memory. The audience can only speculate about how truthful these imaginings are. But we do know that this story is often told to Amanda's grown children, which also includes a daughter, Laura.
Both Tom and Laura probably guessed long ago that it was Amanda's constant fussing that drove her husband away. Had she been a more easygoing wife, she probably would have had the life for which she longed.
But Williams sees people as they are, which means they are very slow to change (if they change at all). Even when Tom occasionally reminds her that it's his paycheck that keeps them from being tossed out on the street, she rarely backs off. The Wingfields's apartment is exceptionally sparse, as created by set designer Philip Whitcomb. There isn't even a small, lighted display case for Laura's collection of glass animals (giving the play its title). Instead, the collection sits on a wood tray that is stored on the floor beneath a wobbly looking bench.
The set's most striking element is a full-sized enclosure of smoked glass or acrylic. One door serves as an entrance to the apartment as well as the fire escape, which serves as a balcony. The other door leads to the dining room. The family sometimes congregates behind the glass wall to eat. This forces the audience to peer through this slightly wavy glass to see the characters. The glass walls also suggest the impermanence of memory and, perhaps, Amanda's heightened fear that the glass will come toppling down on her at any moment.
The play's best scenes are always when the character dubbed the "Gentleman Caller" arrives. In preparation for his appearance, Amanda buys a stunningly beautiful 1940s dress for Laura (Kelsey Brennan). Not to be outdone, Amanda goes through her wardrobe to find a faded, tiered gown that is still slightly fancy while also looking somewhat ridiculous. Lighting by Thomas C. Hase illuminates Amanda's pale dress in a way that one cannot tell if it originally was yellow or pink. The dress' blue sash is the only part with a distinct color. This costume, as well as Laura's party dress and the other outfits, are exceptional (thanks to costume designer Rachel Laritz).
Laura's almost ghostly character comes to life when the Gentleman Caller (nicely portrayed by Brandon Dahlquist) decides to bring her out of her shell. He remembers that they went to high school together. Seeing the pained look on Laura's face, Jim reassures her that her slight limp and leg brace were hardly noticeable to anyone else. At first an egotistical braggart, Brennen (as Jim) gives an excellent performance, especially when the slow-blooming Laura begins to enjoy Jim's attention. There's genuine chemistry between them.
Sadly, the women's dreams are crushed (thinking Jim might be a regular suitor for Laura) when he announces his engagement to another girl. After he departs, Amanda launches into a string of unjustified attacks on Tom. This proves to be the last straw. For the last time, Tom tugs on his wool cap and begins to talk about other chapters in his life. He finally admits that no matter how far away from St. Louis he could physically get, the family he left behind is never completely forgotten.
Cast:
Hollis Resnick (Amanda Wingfield), Kelsey Brennan (Laura), Ryan Imhoff (Tom), Brandon Dahlquist (The Gentleman Caller).
Technical:
Set: Philip Whitcomb; Costumes: Rachel Laritz; Lighting: Thomas C. Hase; Sound: Joe Cerqua.