Images: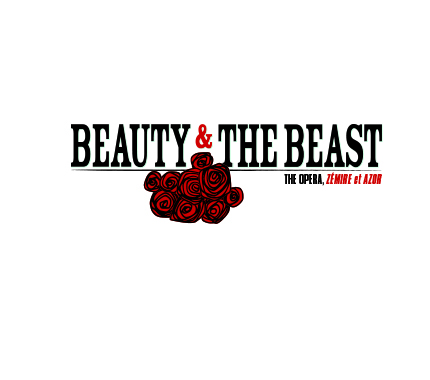 Company/Producers:
Skylight Music Theater & Opera Saratoga
Theater:
Broadway Theater Center - Cabot Theater
Review:
It appears the old fable, Beauty and the Beast, is well-represented these days. Disney just opened its live-version film recently, and the Milwaukee Ballet Company is taking a crack at it soon. But there's no need to feel overkill at yet another version, such as the one presented by Milwaukee's Skylight Music Theater. This bewitching blend of vocal gymnastics, lovely costumes, medieval-style dancing and fantastic puppetry make this production not to be missed.
For those unaware of this age-old story, Beauty and the Beast tells of a young girl who bravely offers to take her father's place after he seeks refuge from a storm inside a strange castle. While there, the father encounters its beastly owner, who flies into a rage. He insists that the father spend the rest of his life in the castle's dudgeon. Unknown to anyone but Azor, his hideous appearance is the result an enchanted spell.
The fairytale theme is evident in the opening number, as a group of sprites dance around a looming castle. The set doubles as home to both the beautiful Zemire (Gillian Hollis) her father and sisters, and also the beastly Azor (Chaz'men Williams Ali). A double turntable within the castle allows and a constantly shifting kaleidoscope of rooms and outdoor spaces.
The sliding set also proves handy for entrances and exits by the Beast, which in this case is an eight-foot-tall puppet that is animated by several sprites. The sprites hide behind the beast's tree-like forearms or inside the puppet's head. Whenever this gigantic puppet appears, it attracts every eye in the house. The monster is quite animated for its size — with moving parts such as cow-like ears, tarantula-like jaws and parts of its body, which is covered in scales that remind one of a dinosaur.
The Beast is only one of several puppets seen here. Each one operates in a way that is unique to its character, whether a scruffy small dog or a gust of wind (try imagining what that looks like). Ortiz is also the set and puppet designer for the production, which probably explains why the puppets operate so effectively, sweeping on and off-stage in the blink of an eye.
The puppets are only one of the show's attractions. Grétry's score is beautifully realized by 13 musicians under the direction of Shari Rhoads. And the singing is a fine match, too, coupled with top-notch acting skills.
As Zemir, Hollis uses her voice to advantage in several show stopping numbers. A favorite of this reviewer is her treatment of La Fauvette, which she sings (in French) to the Beast to amuse him. And the Beast, although he looks frightful at first sight, reacts to Zemire in a way that is boyish and charming. Even small children can detect the spell she is casting over him, and their laughter can be heard in the aisles as Zemire and Azor play hide-and-go-seek with each other. Further comic antics are provided throughout the opera by Ali, a dim-witted servant (Nicholas Nestorak).
Against his master's command, Ali leads Zemire to the Beast's castle. Back home, the father (Eric McKeever) nearly starves to death at the thought of his favorite daughter being trapped by the beast. Zemire has two sisters (Erin Sura and Sarah Thompson Johansen) who behave very much like the stepsisters in Cinderella. They yearn for precious jewelry and fancy gowns that their father brings back from his trips abroad. In contrast, Zemire asks only for a single rose, since none grow in their part of the country. The sisters chide her for wanting something so ordinary. "'Things' don't buy happiness," she replies, tartly.
Azor, too, wants something intangible – namely, someone to love him despite his hideous appearance. Zemire sees how hard he is trying to please her, and her heart goes out to him. While the Beast "talks" and "sings," the voice comes from an unseen man wearing a cloak (Chaz'men Williams-Ali). In the final scene, when the spell is broken and the "Beast" dies, this man throws off his cloak and reveals himself as Azor. Zemire, who is too pure to castigate her selfish sisters, invites all of them to live together, happily ever after.
Cast:
Gilliam Hollis (Zemire), Chaz'men Williams-Ali (Azor), Eric McKeever (the father), Nicholas Nestorak (Ali).
Technical:
Set: James Ortiz; Costumes: Shima Orans; Lighting: David Gipson; Music director: Shari Rhoads