Images: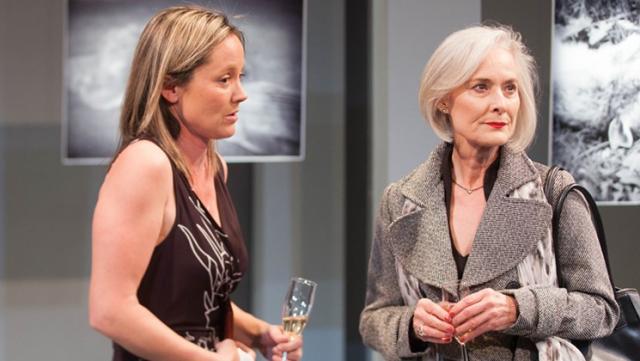 Review:
Death does not take a holiday in Still Life, Alexander Dinelaris's play at Rogue Machine. On the contrary, death crops up everywhere in the play, beginning with the portraits of dead chickens shot by lead character, Carrie Ann (Laurie Okin), a photographer we are asked to believe makes profound statements with her work. Carrie Ann also references mortality in the speech she gives at the gallery opening of her exhibition, which concludes with these banal words, "We're all going to die."
Poor Carrie, an inarticulate woman who seems to be suffering from some kind of psychological trauma caused by the death of her father, Theo (Frank Collison), manages to raise enough energy to enter into a love affair with Jeffrey (Lea Coco), a "trends analyst" at an advertising agency, only to lose him in Act Two to, you guessed it, a fatal disease.
About the only thing that saves Still Life from being a complete disaster is its sometimes snappy, wise-ass dialogue, most of which comes from the mouth of Terry (Jonathan Bray), Jeff's horny, meretricious, coke-sniffing boss. Unfortunately, many of the other characters in the play also sound like Terry, speaking at a staccato pace, often breaking off or being interrupted in mid-sentence. It makes for a sameness of delivery which becomes grating over the long haul.
The cast, which includes Nardeep Khurmi as a doctor, Susan Wilder as a pontificating arts professor, Tana Verafield and Jennifer Soreson in a variety of roles, do their best to energize Dinelaris's play, but as the portentous Carrie Ann might say, you can't bring a corpse to life.
Cast:
Susan Wilder, Laurie Okin, Lea Coco, Jonathan Bray, Tania Verafield, Nardeep Khurmi, Jennifer Sorenson, Frank Collison
Technical:
Set: Tom Buderwitz; Costumes: Halei Parker; Lighting: Leigh Allen; Sound: Christopher Moscatiello; Video: Nicholas E. Santiago