Images: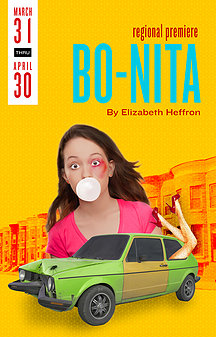 Review:
In a monologue delivered with much activity, a 13-year-old girl dramatizes an outstanding, murderous day in her life and a journey to get rid of a body. It happens in a confusingly described St. Louis, MO areas but involves flashbacks in time and space (including a country scene). It may even delve into the girl's future place, along with that of her sex-addicted mother and various men to which she is or has been attached.
Because of the distinctiveness of author Elizabeth Heffron's vocabulary and style, and because Terri Weagant fully invests energy and clever miming into taking on seven roles, BO-NITA merits attention. Whether it depicts a representative mismatched teen and mother and social status and environment that should be cared about, or if it basically attracts as a bizarre story with bits of outlandish humor, I'm not sure.
I admit that I didn't really care much about or for the characters, and I found the humor not so much funny as absurd. A depiction of disguising a lifeless male body as a Cleopatra figure with difficult-to-handle fishnet stockings seemed to last forever. An episode on a farm with the younger Bo-Nita having to drink milk just got from a cow felt incidental. Though I could never believe Weagant was only 13, she did younger successfully, maybe because it's a story set in the past.
I was distracted by the weird geography of revealed events, especially on a drive to dispose of the disguised body. It's supposed to begin in St. Louis county around Carondelet and go to Ladue (place or avenue unclear) and be near The Plantation (only comparatively recently re-developed). Bo-Nita and mom and her newest (but married) beau take the body in a car to The Landings but land in Forrest Park (mid-city). So was the car going to The Landings shopping center (county) near Ladue or was it intended to get to Laclede's Landing on the Mississippi downtown? The latter would have been the logical place to not be detected dumping a body.
As for the set, one side with a graffiti-full reddish brown brick wall clearly shows the greater St. Louis area. The center with a park bench and a stoplight hanging in front and above it, along with a grassy cove on the other side, are quite serviceable. I did miss a still-bright St. Louis sun on the afternoon of the story, though it is approached in the country scene. It's possible, of course, to just say everything and everyone appear with Midwestern Magic Realism, thus excusing illogic and even praising it.
With embellished monologues representing newness on a global scale these days, Urbanite Theater is here using one to bring the Sarasota area onto the world theater scene. A mission certainly accomplished!
Technical:
Set: Jeffrey Weber; Costumes & Props: Summer Dawn Wallace; Lights: Ryan E. Finzelbar; Sound: Rew Tippin; Vocal Coach: Patricia Delorey; Makeup: Michelle Hart; Stage Mgr.: Amanda LaForge