Images: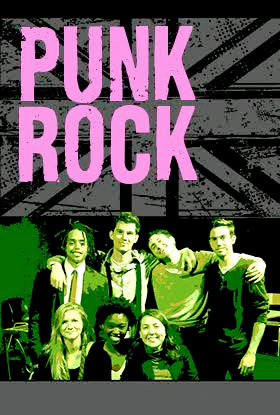 Theater Address:
2055 South Sepulveda Boulevard
Review:
Punk Rock, now in a Los Angeles premiere at the Odyssey, is a British play about a Columbine-like campus shooting. It is written by Simon Stephens, one of Britain's finest and most controversial young playwrights—his Pornography shook up the staid London theater world in 2007.
Stephens, who has also written such plays as Heisenberg and The Curious Incident of the Dog in the Nighttime, looks at seven teenagers in Punk Rock who are studying at a prep school for an important exam which will determine whether they will qualify for a university education. The pressure on them is great: their parents have spent big bucks on this crash course, the competition to achieve their academic goals is intense.
The British kids, played authentically by a gifted American cast with impeccable accents, are a mixed bag. Five are white, two are black, all are wise and assured beyond their years, but ill-formed, fearful and neurotic as well. The contradictions in their character are explored in depth by Stephens.
Like teenagers everywhere, they form cliques, tease each other about clothes, music, sex and behavior. They also line up behind a leader, in this case Bennet Francis (the vibrant Jacob B. Gibson), a dread-locked, motor-mouthed, Machiavellian kid who knows how to press everyone's button. A bully, a dandy, and a joker, he delights in manipulating and abusing his followers — and is the obvious villain in the story, the one who forces the action that results in the shooting.
Stephens, however, goes in a different, more surprising direction. His killer, a sweet-natured, likable kid named William Carlisle (Zachary Grant), may indeed have some issues with Bennet, but his decision to go out and get a gun comes out of a deep, dark, seductive place within himself. The nature of his transgression, Stephens would have us believe, had more to do with anger and irrationality than evil. The kid doesn't even understand what he did, or why he did it, not even a year later when he's being grilled by a prison psychologist (Mark Daneri). All William knows is that, for some reason, he cracked under pressure and did something bad. Meanwhile, the good-boy part of his character yearns to have a house and a family one day.
Don't think for a minute, though, that Punk Rock is a clinical piece of work without humor. On the contrary, the play is visceral, ferocious, funny and confrontational from start to finish. Stephens's dialogue crackles with tension and energy, his characters are vigorously alive, and his story shoots hard and fast down the rails, driven by a pounding punk-rock soundtrack.
The actors — and director Lisa James — can't be praised enough for the contributions they have made to the success of this production. This is an ensemble, and a play, to remember.
Cast:
Mark Daneri, Jacob Gibson, Zachary Grant, Nicholas Marini, Raven Scott, Kenney Selvey, Story Slaughter, Miranda Wynne
Technical:
Set: John Iacovelli; Lighting: Brian Gale; Sound: Christopher Moscatiello; Costumes: Halei Parker; Fight Choreography: Matthew Glave