Subtitle:
The Demon Barber of Fleet Street
Images: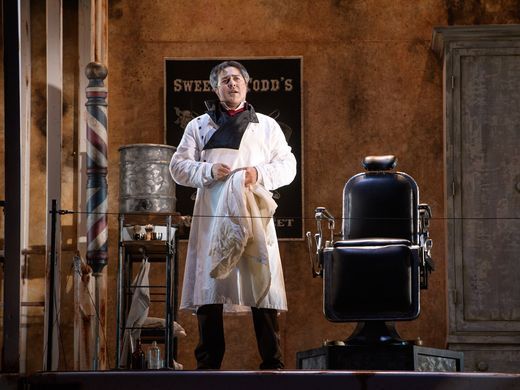 Theater:
Broadway Theater Center - Cabot Theater
Review:
There's no need to beg the audience to "attend the tale of Sweeney Todd;" not when the telling is being done by Milwaukee's Skylight Music Theatre. The long-established theater company is right at home in Sweeney's barbarous barber shop: this is the third time they've staged the musical in the past 30 years. And this production is a heck-of-a-ride that takes your breath away.
Complemented by superb technical values (more on that later), the bloody Barber of Fleet Street returns to London once more from the far-away penal colony he escaped. It is the beginning of the industrial age, and the look and feel of this London is as polluted as the air and as greasy as one of Mrs. Lovett's meat pies.
Sweeney Todd opened on Broadway in 1979, with George Hearn and Angela Lansbury in the key roles. It won eight Tony Awards, including those for Best Musical, Best Book and Best Score.
In the Skylight production, Director Matthew Ozawa adds something new: a prequel in which doctors and nurses attend to someone lying on a gurney. Light fixtures onstage suggest an operating theater. High platforms rise above the scene, and well-bred Londoners look down on them (literally as well as figuratively). On the lower level, the body is covered by a white sheet. One guesses that this might be an autopsy rather than a surgery.
A piercing factory whistle changes the mood almost instantly. The hush is over; you now hear the booming, malevolent tones of organ music. The stage suddenly is bathed in red lighting. The "patient" leaps up on the gurney. The chorus sings that he "served a dark and a vengeful god." What a terrifying introduction to Sweeney Todd.
Stephen Sondheim fans need no more description. This is one of the songwriter's most popular musicals: Sweeney Todd, the Demon Barber of Fleet Street. The clash of good versus evil is played out in all its bloody glory here. Blood is everywhere: from the edge of Sweeney's sharp razor as he turns a quick shave into a throat slitting, to blood dripping down the stage's back wall. There's a subtler nod to red in the exquisitely clad Victorian-era costumes. One sees shades of plum, raspberry, claret and other reddish colors, mixed with the typical browns, blacks and greys.
As one expects from Skylight productions, the singing is exquisite. Sweeney has a rich baritone and conquers this tricky musical score. Andrew Varela, who plays Sweeney, also reveals various emotional layers in his dazzling performance. A newcomer to Milwaukee, Verela is no stranger to the professional stage. He has numerous Broadway acting credits, to which he has recently added some Milwaukee ones. For instance, when Sweeney sings of how "naive" he was in the past, one can see the wistful look in Varela's gaze. One can easily imagine how eager he is to return to a simpler time, when life was good. He sings of a beautiful wife, a baby and a prosperous business — all of which were taken from him by a powerful judge.
The only reason Sweeney attracted the judge's attention is his wife's beauty. The judge desired her, and he had her once Sweeney was safely whisked away to a penal colony. Judge Turpin (Randall Dodge) used his power to rip apart Sweeney's world, much as the industrialists of the day were tearing apart the souls from those who labored long hours under horrid working conditions.
There are lighter moments, of course. Christina Hall plays a capable Mrs. Lovett, although one still misses the zest of Broadway's Angela Lansbury. As Lovett, Lansbury was "peckish" in several senses. If she was feeling hungry, it was mostly for male attention. Lansbury would literally bob her head, like a chicken, as she poked her nose into everyone's business. Hall takes a smoother, less sinister approach. She seems less of a schemer than a woman who is alone in the world. In one of her best songs, Hall and Varela demonstrate their differences as Mrs. Lovett sings the buoyant "By the Sea." It's clear that Lovett will take Sweeney at any cost. She rattles on, seemingly oblivious to his numbed indifference. Emotionally, the scene is light years removed from a previous duet, in which they sing about making customers into meat pies ("A Little Priest").
Although somewhat less well-rounded than the characters of Sweeney and Mrs. Lovett, Kelly Britt and Lucas Pastrana do a fine job as the pair of young lovers. As Toby, an urchin rescued from his heartless boss, Ryan Stajmiger steals our hearts, just as his character is supposed to do. He and Mrs. Lovett sing a particularly touching tune, "Not While I'm Around." The song is so lilting and lovely that you suddenly realize how wonderful the orchestra sounds under the direction of Ben Makino.
The movement onstage is a credit to choreographer Ryan Cappleman. He turns the song, "God, That's Good!" into a vision of people behaving as mechanical puppets. The cast breezes through the difficult number without a hitch.
An entire review could be dedicated to Charles Murdock Lucas' stage. It consists of several levels and seems to be constantly moving. By visually blocking actors who are only standing a few feet apart, he allows the audience to enter a multi-dimensional world of space and time. Actors play out different scenes in unison, so the audience must pay attention to catch all the action.
Overall, this is a great season send-off for Skylight and a wonderful tribute to the talents of Stephen Sondheim and all those involved in creating the dark universe inhabited by Sweeney Todd.
Parental:
Sexual innuendo, gory violence.
Cast:
Andrew Varela (Sweeney Todd); Christina Hall (Mrs. Lovett); Lucas Pastrana (Anthony Hope); Kelly Britt (Johanna); Ryan Stajmiger (Tobias Ragg); Randall Dodge (Judge Turpin).
Technical:
Set: Charles Murdock Lucas; Costumes: Jason Orlenko; Lighting: Jason Fassl; Music director: Den Makino