Images: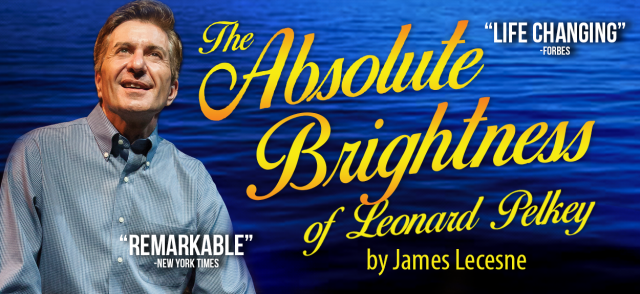 Theater:
Florida Studio Theater - Keating
Review:
Leonard Pelkey, a 14 year old boy, is missing from his New Jersey shore small town. Hard-boiled detective Chuck DeSantis (played by Jeffrey Plunkett who also plays everyone else in monologues plus scenes) tells us about the search for him. He's letting us in on Leonard's "absolute brightness" that physics defines as what a star might have in certain light years from earth. Leonard let his shine all over town.
When Plunkett's DeSantis is not addressing us, he's embodying characters like teenage Phoebe, whom he often coaxed out of her shell, and her mother Ellen. She's the one who reports Leonard missing. Ellen's the grating-voiced proprietor (with a hidden heart) of a hair salon that Leonard influenced as if a stylist. She's not squeamish about death, having "made up" corpses—for twice the price.
Marion is one of Ellen's regular customers. She tried to get Leonard to tone down a bit. He might have been too honestly gay for his own good. But he influenced many of the townswomen in their make-up and fashion, like each one's need to have a little black dress.
DeSantis learns a lot about Leonard from Buddy, a snobby Brit who runs a drama school. He and his wife also teach dance. Buddy hasn't gotten over Leonard insisting on wearing wings to play Ariel in The Tempest. But he loves Leonard's jazzy hands.
Gloria, who married a gangster who wouldn't have liked Leonard, maybe had mob connections. She's very concerned with religion, especially the existence of hell. She finds one of Leonard's distinctive made-up color-laden platform shoes.
Though the worst is what DeSantis finds of Leonard, the story is not sad but often funny and, in the end, uplifting. This is a fine variation on the LGBT dramatic theme. It even gives the narrator a new lease on life.
Leonard is shown only dimly in a projection on a break in the wall behind the detective's office wall, where only necessary scenes are shown. It's a refreshing departure from projection overkill in so many theaters these days and suits the utilitarian office and basic furniture realistically. A door is well situated to let different characters in and out.
Lighting is so important in this play that it's no wonder designer Mike Wood has had an assistant help. The good job we see creates times and places and moods. Thomas Korp's sound completes the atmosphere.
I don't know how Kate Alexander could have done better than in her direction of this fine play and performer. Jeffrey Plunkett's interpretations are brilliant--which is no less than one would probably have experienced from seeing and hearing Leonard Pelkey himself.
Technical:
Set: Stephen Dunham; Costumes: Adrienne Webber; Sound: Thomas Korp; Lights: Mike Wood; Asst. Lights: Anthony LeFebvre; Stage Mgr.: Roy Johns