Images: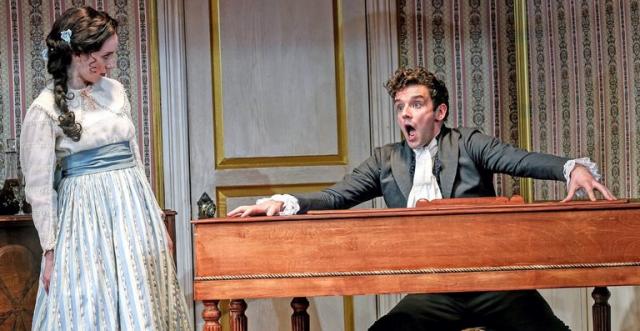 Review:
Michael Urie is a comic genius; he must be seen by the theater loving public. If there were no other reason to recommend The Government Inspector,M.UNot surprisingly, Mary Testa stands out as the vain, frivolous Anna Andreyevna, who will do anything to get her daughter Maya (Talene Monahon) married off- providing it doesn't interfere with her own pleasure. Her husband, the mayor, Anton (Michael McGrath) has learned that a top official is coming to check up on him and his town, which throws Anton into a panic. These Russians will have to bribe their way to acceptance; that's how things are done, so whip out the cash.
For a list of spurious reasons, Urie's character, Ivan, has been chosen as the secret official. He's just about to shoot himself, if he can ever stop primping in the mirror. Ivan is an inept gambler and a cad, mediocre at everything except maintaining is gigantic ego. It's telling that his servant Osip (Arnie Burton) is thrilled by the notion of Ivan's soon-to-be demise.
It's at this point that the mayor and his minions rescue Ivan, and provide him with the best accommodations in town. A lavish party is thrown, at which Ivan becomes progressively drunker on cheap wine. What ensues is an evening of lust, door slamming, bribery, and all around bad behavior.
Michael Urie gets to show his prowess as an incomparable master of physical comedy; he's Ty Burrell without the "Modern Family." He's also extremely sexy, and exudes a quality that couldn't be more different than his work in Buyer & Cellar and "Ugly Betty."
This is a production that sweeps the audience along in a crescendo of hilarity. Just for good measure, there's a twist at the end. It just couldn't be any better.
Cast:
Michael Urie, Mary Testa, Arnie Burton, Stephen DeRosa, Michael McGrath, Ryan Garbayo, Kelly Hutchinson, Ben Mehl, Talene Monahon, Luis Moreno, James Rana, Tom Alan Robbins, Mary Lou Rosato, William Youmans
Technical:
Sets: Alexis Distler; costumes: Tilly Grimes; lighting: Peter West & Megan Lang