Images: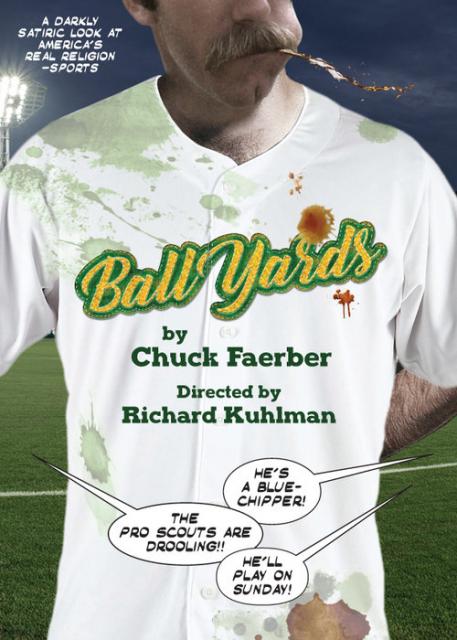 Company/Producers:
Racquel Lehrman, Theater Planners
Review:
Playwright Chuck Faerberg pokes fun at the sports world in Ball Yards, his new play which just opened at the Zephyr Theater for a month-long world-premiere run. Faerberg (Zulu Time) and director Richard Kuhlman have put together a seven-person cast of actors each of whom plays multiple roles during the course of the evening. Some of Faerberg's satirical targets are right on the money: nonsense-spewing sports announcers, smarmy football coaches who quote scripture in their team pep talks, a pretentious star running back who thinks he is the reincarnation of a Mayan god.
Other targets, though, are off the mark, such as a Grand Kleagle who has a thing for Condoleezza Rice, or the USA poet laureate who is raving-mad about baseball.
Ball Yards is essentially a series of comic sketches stitched together with a bit of narrative thread. It's more of a revue than a play. Nothing wrong with that; entertainment can take any form it chooses. But play goes wrong by going on too long. An hour of sports-oriented skits would have been sufficient for this reviewer; at an hour and a half, the play simply wore out its welcome.
No one can fault the actors for the evening's deficiencies; they work their fool heads all night long, jumping in and out of costumes, giving everything they have to get laughs as they impersonated one outlandish character after another: coaches, golf pros, KKK chiefs, cheerleaders, TV producers, and many more.
Ball Yards' madcap antics take place on a simple but effective set by Gary Lee Reed and are gaudily costumed by Wendell C. Carmichael.
Cast:
Marissa Drammisi, Byron Hays, John Marzilli, Mike Ross, Matt Shea, Scott Keiji Takeda, Christopher T. Wood
Technical:
Set: Gary Lee Reed; Lighting: Donny Jackson; Costumes: Wendell C. Carmichael; Props: Bonnie Bailey-Reed; Sound: David B. Marling