Images: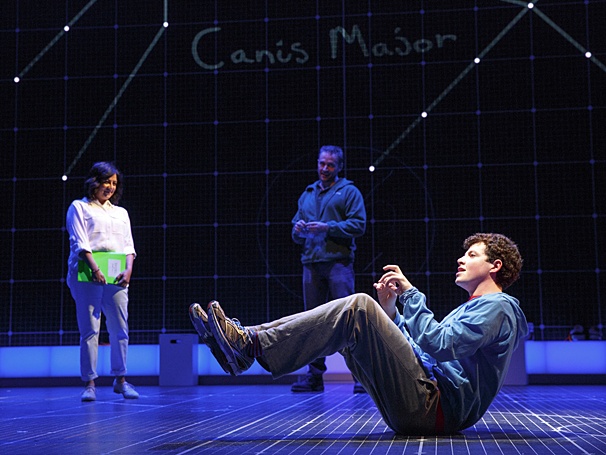 Company/Producers:
Center Theater Group / The National Theatre
Choreographer:
Scott Graham & Steven Hoggett for Frantic Assembly
Review:
The Curious Incident of the Dog in the Night-Time comes to L.A. carrying clutches of theater prizes from London and New York, plus a towering set by Bunnie Christie which must have cost a cool million to put together. Not only does it frame the vast Ahmanson stage, it is tricked out with video projections, computer screens, and sound and lighting effects, all of which are put to swift, dazzling use during the course of the story. We sometimes get the feeling of watching a play take place in a giant pinball machine.
The multimedia strategy pursued by the playwright and director is overwhelming at times and detracts from the small, sensitive tale they tell, one which has an autistic teenager at its center. Christopher (played by Adam Langdom, with Benjamin Wheelwright as alternate) is a kid with a special gift: he's a whiz at math, a prodigy really, but like many on the autistic spectrum, he has trouble relating to other people, hates to be touched, needs to live an obsessively structured life. He's also honest to a fault.
Christopher's narrow little world is upset when he discovers that a neighbor's dog has been killed (with a pitchfork serving as the murder weapon). To restore the equilibrium of his own existence—and to bring the culprit to justice—Christopher sets out to solve the mystery of the dog's death. It puts him in stressful conflict with his family and friends—and above all with society itself, especially when he ventures out into it on his own, trying to cope with traffic, noise, chaos, trains, subways, strangers, and police.
Langdom does a brilliant job as Christopher; he makes us care about this bizarre kid who travels everywhere with a pet rat and is constantly besieged by seemingly irrational adults. About the only person who truly understands him is his teacher Siobhan (Maria Elena Ramirez), the most sympathetic character in the play.
The Curious Incident mostly concerns itself with Christopher's journey from adolescence to maturity, and director Elliott is at her strongest when she choreographs that journey, gives movement and rhythm to it. Where she falters and even goes wrong is in the personal scenes, the intimate exchanges between Christopher and his peers. At all times she has her actors barking their lines, with nary a change of pace or intonation. It's the Loud and Louder School of Direction again. Enough, already.
Cast:
Adam Langdon, Benjamin Wheelwright, Kathy McCafferty, Maria Elena Ramirez, Brian Robert Burns, John Hemphill, Gene Gillette, Geoffrey Wade, Francesca Choy-Kee, Amelia White, Felicity Jones Latta, Robyn Kerr, J. Paul Nicholas
Technical:
Set/Costumes: Bunny Christie; Lighting: Paule Constable; Video: Finn Ross; Music: Adrian Sutton; Sound: Ian Dickinson for Autograph; Hair: David Brian Brown; Production Stage Manager, C. Randall White