Images: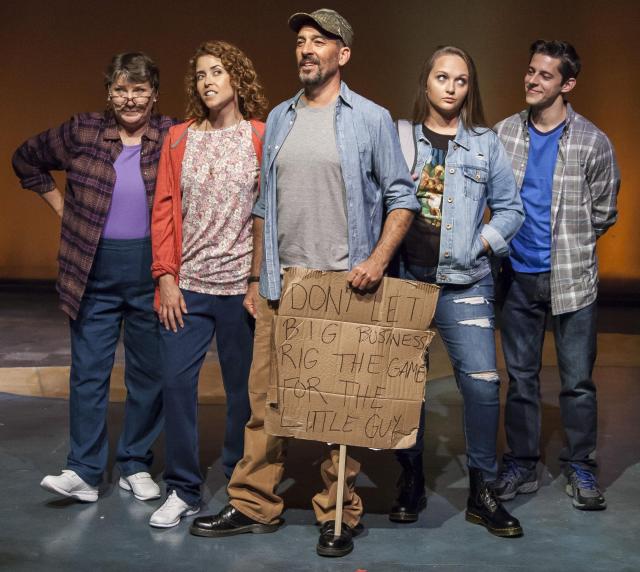 Theater:
Florida Studio Theater - Gompertz
Review:
There's currency in this drama about a blue-collar family who live in a doublewide trailer. Big Jim, its head, has always hoped to use this mobile home's land for an immobile real brick house that will eventually be willed to his daughter. Now the county will claim the land by eminent domain to further growth of a neighboring casino spurring the economy and tax revenues.
As Big Jim, effective Ross Licea gains immediate sympathy in his plans to fight for his land but then the sympathy gets diluted. Scenes in Doublewide play out antiphonally between Jim's wife Sharon (dignified Gisela Chipe), a WallMart assistant manager ambitious to be a boss, and daughter Lorelai. A high school junior avoiding classes, she wants to run off to make musical records.
Weaving in and out of the family is always reliable Kim Crow as hard, selfish Coral, cussing and smoking. She spends her days gambling in the casino, son Jim's enemy, and waiting for the time she thinks she'll hit it big. Lorelai is like her in that respect, but presently upset at losing a boyfriend, thinking it's because she failed "to put out."
The outsider in Big Jim's home is Chuck (likeable Nick Piacente), a senior who visits to help Lorelai with the studies in which she's doing badly. It's not easy to see what else Chuck sees in her, because Alexa Fajardo Eldridge as Lorelai is not particularly agreeable in looks or temperament. He seems to be around for a bit of plot suspense only.
A significant change in Big Jim's life affects his family, living conditions, and all his plans. Will it in the long run better their financial conditions? What else? Not even Jason Cannon's smooth direction can substitute for author Stephen Spotswood's wanting script, which still needs development.
The play's big strength is dialogue, but it doesn't account for the mysterious geographical local of the play. All that's known is it's small-town territory and harbors deer. Are there or were there ever other doublewides in Big Jim's area?
The furniture and props that fill the set tell a lot about life there, although there is strangely no kitchen or dining table visible. All the technical work supports activity inside, and the outside where Jim goes hunting is cleverly suggestive. These elements should be retained as Doublewide moves — with plot revisions —
to the next stop in its rolling premiere.
Cast:
Gisela Chipe, Kim Crow, Alexa Fajardo Eldridge, Todd Licea, Nick Placente
Technical:
Set: Isabel & Moriah Curley-Clay; Lights: Mike Wood; Costumes: Jeff Cone; Sound: Jonathan Baker; Asst. Lights: Anthony LeFebvre; Stage Mgr.: Roy Johns