Images: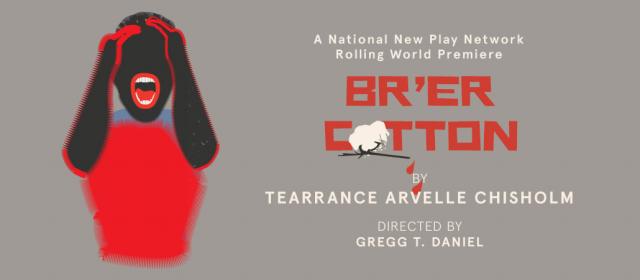 Company/Producers:
Lower Depth Theater Ensemble/Theater Planners
Review:
A play that's been made painfully relevant by recent headlines, Br'er Cotton deals with racism in America, particularly the kind directed at black folks. Written by a young, promising playwright, Tearrance Arvelle Chisholm, the play centers on Ruffrino Witherspoon (Omete Anassi), a 14-year-old kid seething with rage against white people, especially those who have systematically exploited and murdered African-Americans.
Ruffrino lives with his mother Nadine (Yvonne Huff Lee) and grandfather Matthew (Christopher Carrington) in a small house in Lynchburg, Virginia, not far from the fields where his slave ancestors picked cotton. That Lynchburg is located only 68 miles from Charlottesville, where the KKK and other white supremacists held an August, 2017 "Unite the Right" rally, gives an eerie resonance to Chisholm's story.
Br'er Cotton is essentially a family play, one whose generational differences supply the drama. Ruffrino, whose militant thinking has been influenced by his father, an ex-Black Panther now locked up in prison, clashes with both of his elders, accusing them of being too cowed and frightened to stand up to their oppressors. But as Gramps points out, "the Witherspoons don't do revolution." He believes that if you stick your neck out, it will only get chopped off.
As for Mama Nadine, she has all she can do as a single parent to keep home and hearth together. Although she attended college for a year, she cleans white folks' houses for a living–and studies at night to become a nurse. This leaves little time and energy to keep her wild, rebellious son in check.
Nadine meets a local white cop (Shawn Law) and enters into an uneasy friendship with this decent, unprejudiced (and lonely) chap. The friendship never blossoms into a love affair, but it does have dangerous and tragic consequences.
When he isn't railing against injustice and racism, Ruffrino plays a video game called Diaspora, one which pits him against redneck enemies. His partner is a young girl (Emmaline Jacott), who lives in another state, with whom he communicates by phone as they simultaneously work the controls of their XBox. The game itself is also dramatized, with two avatars (Dane Oliver, Jasmine Wright) leaping about the stage with sabers in hand, battling unseen, hateful warriors. Choreographer Doug Oliphant does wonders with these tricky sequences.
Chisholm also works history and fantasy into the mix: there are flashbacks to slavery times — and sudden and unexplained tremors that shake the Witherspoon house (history squeezing it in its grip?)
The main focus is on Ruffrino, though, a brave, bright lad whose life is blighted at a young age by the poison of racism.
Br'er Cotton is distinguished by its remarkable cast, each one of whom gives a strong, vibrant performance.
Cast:
Omete Anassi, Christopher Carrington, Yvonne Huff Lee, Emmaline Jacott, Shawn Law, Dane Oliver, Jasmine Wright
Technical:
Musical Arrangements: Chelsea Davis; Set: David Mauer; Costumes: Wendell C. Carmichael; Lighting: Wesley Charles Chew; Projections: Yee Eun Nam; Sound: David B. Marling; Props: Michael Allen Angel