Images: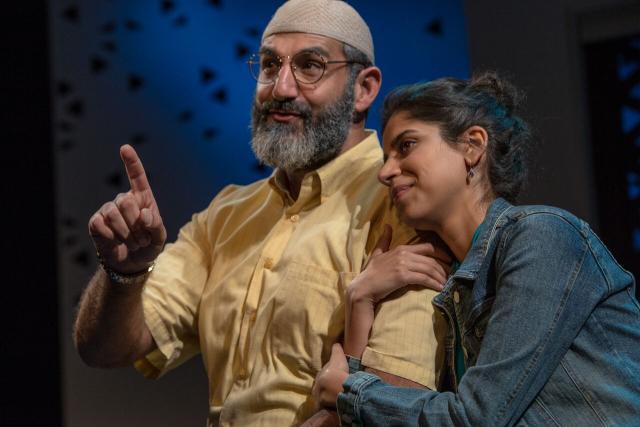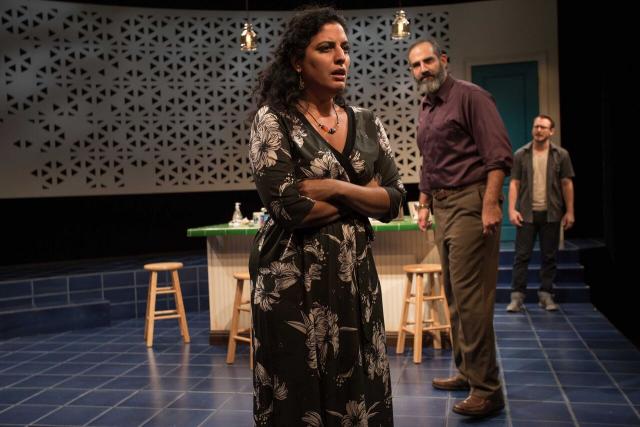 Company/Producers:
Milwaukee Repertory Theater
Theater:
Milwaukee Repertory Theater - Stiemke Studio
Review:
In the pivotal opening scene of Ayad Akhtar's The Who and the What, two grown sisters are calmly chatting in a kitchen. The audience can tell that these Pakistani-Americans are thoroughly Americanized, from how they dress to how they talk (in slang). At one point the sisters agree that their loving, ultra-conservative father can be difficult to live with, tied as he is to Muslim traditions.
As the conversation continues, young Mahwish (Nikita Tewani), reveals why she is insistent that her old sister marry – and as soon as possible. In this culture (as in many others), the oldest sibling must marry first. Mahwish, who is dating, says she endures some gut-wrenching humiliation to stay in accordance with their religious beliefs. Suddenly, this light comedy veers into tragedy.
To make matters worse, Mahwish tells her older sister Zarina (Soraya Broukhim) that she recently saw a Facebook photo of Ryan, Zarina's former fiancé. Mahwish says he was standing with a woman – presumably his wife — and they were holding a baby. Mahwish treads on this subject gently, but it is not gentle enough to prevent Zarina from fleeing the kitchen, sobbing. One learns later that Zarina was forced to break off the engagement by her father. Ryan had asked Zarina's father, Afzal (Brian Abraham), for his daughter's hand in marriage. The father rejected this idea. Ryan refused to renounce his Catholic faith and, as far as Afzal was concerned, the subject was closed.
This makes watching The Who and the What an uncomfortable experience for this reviewer and, perhaps, some of the audience. All faiths are equally entitled to have dysfunctional families, but this one really goes to the limits.
The Milwaukee-raised, Pulitzer Prize-winning playwright, Ayad Akhtar, has compared The Who and the What to Shakespeare's The Taming of the Shrew. The play also has been compared by others to TV's "All in the Family" and Fiddler on the Roof.
While one can pick out comparisons between Afzal, Archie Bunker, and Tevye, The Who and the What makes the father a much darker figure.
In the meantime, the smart and strong-willed Zarina isn't content to fully comply with all of her father's wishes. She has been writing a controversial novel that she refuses to discuss with anyone in the family. All she will say is that the novel's topic is "gender politics." Eventually, the novel's publication will tear the family apart.
Prior to the book's publication, Zarina marries a man more to her father's liking. (In a far-fetched but hilarious scene, the father secretly creates a fake profile on an online dating site that Zarina uses. He somehow diverts messages intended for Zarina so, posing as Zarina, he can arrange to meet the guys before they ever see her. No wonder so many potential suitors are creeped out by this approach. And what sixtyish father can pull off this stunt without intensive computer training? (Afzal just recently figured out how to use emoticons in text messages).
Still, Zarina seems relatively happy with her good-guy (and converted Muslim) husband, Eli. Actor Ben Kahre successfully makes us root for Eli, a short, soft-spoken man who converted to the Islamic faith years earlier. Now Eli has a Muslim congregation and runs a soup kitchen. "Oh, a do-gooder!" Afzal exclaims when he hears about the soup kitchen.
In another scene, Eli has a slight confrontation with his father-in-law while he fixes some clogged plumbing in Afzal's home. Afzal tries to convince Eli that "the man comes first" in any household. Eli, visibly uncomfortable with Afzal's patriarchic, outdated views, counters that women need to be listened to and understood. Afzal scorns this "modern" approach, but he is wise enough not to push his views too far. He wants to stay on good terms with his daughters and, now, his son-in-law.
Akhtar's play, which is somewhat of a companion piece to his Pulitzer Prize-winning Disgraced, is infused with more intentional humor than that drama. His characters here are admirably well-balanced between strengths and flaws, and director May Adrales artfully pulls out the unique elements within each character.
As the girls, the anachronistic Zarina is given her due by Soraya Broukhim's solid performance. While Zarina locks horns with her father, the sometimes impish and hip Mahwish (Nikita Tewani) is like many youngest children who can wrap their parents around their fingers. This arrangement makes the family more universal in its nature.
But problematic elements crop up when Zarina asks her husband to read her manuscript. The manuscript, also called "The Who and the What," questions some of the very human qualities that the Prophet might have encountered during his life. Essentially, the book's title compresses the notion of "who" we are as individuals versus "what" roles we take in society. In raising questions about the foundation of the Muslim faith, Zarina unearths a volcano of emotions in her father (who bans her from the family), and her supportive husband loses his congregation. "My God," Afzal says at one point. "If this book were ever seen in Pakistan, we would be killed. We can never go there."
That may be true, but it presents a couple of problems. First, it doesn't concur with the notion of America's "freedom of speech," and secondly, it may heighten non-Muslims' fears about terrorism. Thankfully, the final scenes bring some reconciliation between family members. But it cannot erase the dialogue of previous scenes.
The Milwaukee Rep is to be praised for raising such thorny issues as one finds in Akhtar's play. Theater is sometimes meant to be disturbing, and The Who and the What certainly falls into this category, despite its attempts at pairing comedy with ideas and practices that many may find disagreeable.
Cast:
Nikita Tewani (Mahwish); Soraya Broukhim (Zarina); Brian Abraham (Afzal); Ben Kahre (Eli).
Technical:
Set: Andrew Boyce; Costumes: Izumi Inaba; Lighting: Noelle Stollmark; Sound: Andre Pluess