Images: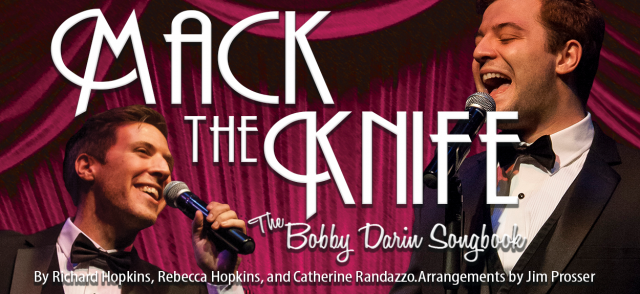 Theater:
Florida Studio Theater - Court Cabaret
Review:
There's an amazing amount of variety in exploration at Florida Studio Theater's Court Cabaret of the music of Bobby Darin, who became a major star at 25 and died at 37. This holds true also of the performances by two energetic guys telling Darin's story and singing songs he wrote and others he was famous for stamping with his style.
Just as Darin was a formal Copa and Vegas star, Brandyn Day and Dan Faber take the stage in tuxes, backed by an equally formally clad band. (Zoe Speas wears a black satin haltered gown with huge white collar that work especially well whenever she joins the singers.) From Darin's own composition "As Long as I'm Singing" the guys go into his famous "Beyond the Sea," a title that later graced a film devoted to his life.
The FST revue of Mack the Knife: The Bobby Darin Songbook swings back and forth between Darin-originated music and others' songs that he made special to himself, like "I'm Sitting on Top of the World," "I Found a Million Dollar Baby," "Just One of Those Things," "I've Got the World on a String" and his big hit by Bertolt Brecht and Kurt Weill—the unlikely popular show tune, "Mack the Knife." And these are only half of Act I's offerings!
The script makes a major point of the many different types of songs Darin mastered. In addition to pop, jazz, rock and roll, ballads, show tunes, he went into country-western with songs like "Clementine" and narratives (often with bleak lyrics) like "Artificial Flowers." When folk music was popular, so was Darin's singing "If I Were a Carpenter" and his own patriotic "Simple Song of Freedom."
Most of FST's revue, though, stresses Darin's "Things" and other compositions. His memory is in the good hands of Brandyn Day and Dan Faber. They recall without imitating. Day substantiates his FST fame, begun with an earlier performance as the rambunctious Jerry Lee Lewis (that some would say "better than"). But Dan is more than just a straight man, especially as he croons swing and soft lyrics. Zoe Speas adds the feminine touch to duets by Darin.
Jim Prosser attests to his 20 plus years as FST's master musician, even supplying a few vocal background notes from time to time. All-important drumming is contributed by Andrew Deeb. Zoe Speas plays bass with ease and in one instance strums a guitar. This links to Darin's other versatility — instrumentalism.
The technical crew is hidden, but their talent isn't. I liked the absence of projections, which have become overdone and underwhelming in too many theaters today. Reproducing Darin's songs and telling of his life recall his images to his fans and stoke the imaginations of those who may be new to his music.
Director Catherine Randazzo delivers a show packed with goodies, sometimes reminiscent of Bobby Darin's night club performances, sometimes recalling his acting. A fine start to FST's Fall-to-Winter Cabaret season!
Cast:
Brandyn Day & Dan Faber; Band: Andrew Deeb, drums; Jim Prosser, piano; Zoe Speas, bass (also Vocalist)
Technical:
Lights: Thom Beaulieu; Sound: Thom Korp; Costumes: Adrienne Webber; Sound: Addison Powers