Images: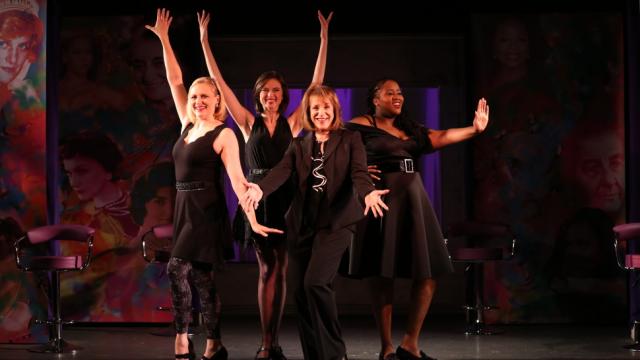 Website:
thisonesforthegirlsthemusical.com
Review:
Towards the end of This One's For The Girls, Janet (Jana Robbins) gets a phone call from Jason, a guy she's been crushing on. She hasn't heard from him in a very long time, and when he asks to see her again, a woman in the audience yelled "Go for it, honey!" There was much laughter, and some applause. When Janet turns down his invitation with "I don't think so," the applause is thunderous. That audience dichotomy is a pretty good indicator of the feelings evoked by this little musical. There's a compendium of good old girl songs, but a thread of bitterness and cynicism runs through the program. To some, this is cathartic; to others, depressing.
I fall into the latter category. I would have enjoyed the simple little ditties from the '50s and '60s sung with good humor and nostalgia, rather than have each one treated scornfully. Those days of singing "I Wanna Be Bobby's Girl" and worshipping the likes of The Fabulous Fabian and Ricky Nelson were good clean fun; why remember them by mocking our innocent schoolgirl crushes? And why not allow Traci Bair, as Eden, to sing "Whatever Lola Wants" straight up sexy instead of throwing in a lot of fall-off-the-chair slapsticks? She's a beautiful woman, and fully capable of selling this song. Isn't sensuality a wonderful part of being female?
There's a tug of war going on between two sentiments: who needs a man, anyway; and what it means to be a woman. Some of the numbers lend themselves easily to parody; who can listen to "Stand By Your Man" without thinking of Hillary Rodham Clinton declaring that by sticking with Bill, she wasn't being a little Tammy Wynette cookie baker? Was there ever a song more bathetic than "It Must Be Him?" Oh dear God indeed. "Sweet Talking Guy" is right on showing projections of men who are infamous in the romance department, including Hugh Hefner, the aforementioned Bill Clinton, Ben Affleck, and Eliot Spitzer. It seems almost cruel to include poor Huma Abedin in a photo with ex Anthony Weiner, but what better way to prove the point? The Andrews Sisters trio doing "Boogie Woogie Bugle Boy," including exuberant Haley Swindal, is most entertaining, and, refreshingly, isn't played for laughs.
In fact, the show is most effective when free from lampooning. Aneesa Folds is a standout explaining the journey of Rosa Parks, and when she sings, it's straight from the heart. Folds, Bair, and Swindal discussing body image makes us long for more discourse on how the way we look shapes our lives as women. "These Boots Are Made For Walking," complete with white go-go boots, is just plain fun. "I Am Woman" and "I Will Survive" are greeted with maximum enthusiasm, and the news that all the characters on stage are doing well is a positive end to the performance.
I spoke to several of the men in the audience after the show, and none seemed offended by the male bashing. Many of the women walked out feeling exuberant. I expect that a lot of conversations will be held expanding on the sometimes conflicting themes of This One's for the Girls. Here's to women everywhere who will not just survive, but who will thrive.
Cast:
Jana Robbins, Haley Swindal, Traci Bair, Aneesa Folds
Technical:
Set/Lighting: Josh Iacovelli. Costumes: Cynthia Nordstrom