Images: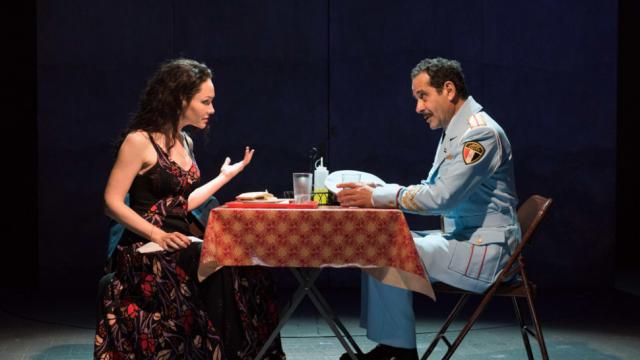 Company/Producers:
Orin Wolf, StylesFour Productions, Evamere Entertainment, Atlantic Theater Company, David F. Schwartz, Barbara Broccoli, Frederick Zollo, Grove•REG, Lassen Blume Baldwin, Thomas Steven Perakos, Marc Platt, The Shubert Organization, The Baruch/Routh/Frankel/Viertel Group, Robert Cole, DeRoy-Carr-Klausner, Federman-Moellenberg, FilmNation Entertainment, Roy Furman, FVSL Theatricals, Hendel-Karmazin, HoriPro Inc., IPN, JAM Theatricals, The John Gore Organization, Koenigsberg-Krauss, David Mirvish, James L. Nederlander, Al Nocciolino, Once Upon A Time Productions, Susan Rose and Paul Shiverick.
Review:
The Band's Visit is the show I'm going to recommend to those who want to know what to see—the best production so far this season. It's a combination of Once and Come From Away, yet it has a totally distinctive voice which is thoroughly enticing. This is a quiet show, a little show, which makes a big impact on the heart.
Set in 1996, this is the story of a little Israeli outpost where nothing ever happens. The inhabitants are bored to distraction and anticipate nothing in their future but are always "Waiting" for something interesting, which they know will never happen.
But one day, because of a linguistic mix-up, a band arrives from Alexandria. The musicians are dressed in powder blue uniforms, and carry their instruments. Their leader is named Tewfiq, and as played by Tony Shalhoub, he's a somber, responsible, and very modest man. The next bus to their location won't arrive until morning. What should he do with his troupe for the evening? There are no hotels in this little desert town, and the only restaurant in sight is a small, unimpressive café.
This is where his luck changes, at least for one night. For into this gloomy picture steps the proprietor of the shack, Dina. This role is no less than a star turn for Katrina Lenk, who is gorgeous, sexy, and immensely talented. But most importantly, she manages to convey a sense of loneliness that pervades the show. That, coupled with the extreme boredom of the inhabitants of Bet Hatikva, makes the action of the play totally plausible. It explains why, rather than rejecting their country's sworn enemies, the townspeople instead embrace them, and welcome them into their homes for the night.
The atmosphere is laden with an almost mystical ambience, redolent of spices, herbs, and languor. The score of the show is undeniably Middle Eastern, seductive, minor key, irresistible. It permeates the production, perfect in every note, and in the varied vignettes. Everyone agrees to speak in English; some are more accomplished than others. The little story of the flirtation between Dina and Tewfiq widens to include a young man who's chronically out of work, and his frustrated wife; an always horny Egyptian Chet Baker aficionado; and a guy who waits and waits at a phone booth, hoping for a call from his girlfriend.
There are many effective moments, but none more stirring than Dina singing about the Egyptian movies she used to enjoy, featuring handsome leading man "Omar Sharif." We can almost smell the jasmine in the air, and it would take a heart of stone to reject her after this. But Tewfiq has to wrestle with his own demons, and as in Once, the tale doesn't follow the expected straight line to romance.
Like Come From Away, we are left with an appreciation of the knowledge that hospitality isn't dead, and that ordinary people can come together to do the right thing. It's a great comfort to know that we are basically all alike, and that given a chance, we can not only get along, but revel in the company of those we've considered our adversaries. Bet Hatikva is no longer a dusty little plot of land where nothing interesting ever happens. It's an oasis of warmth, where many of us will want to visit time and again.
Cast:
Katrina Lenk, Tony Shalhoub, John Cariani, Ari'el Stachel, George Abud, Etai Benson, Adam Kantor, Andrew Polk, Bill Army, Rachel Prather, Jonathan Raviv, Sharone Sayegh, Kristen Sieh, Alok Tewari, Pomme Koch, Madison Madison Micucci and James Rana
Technical:
Sets: Scott Pask; costumes: Sarah Laux; Lighting: Tyler Micoleau