Images: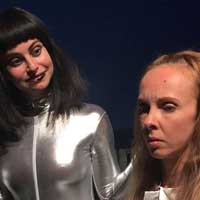 Theater Address:
Bergamot Station, 2525 Michigan Avenue
Review:
Director Frederique Michel and her husband, producer/designer Charles A. Duncombe, continue with their mission of presenting truly alternative theatre in L.A. Working out of their small space in Bergamot Station, they steadily and fearlessly mount works by 21st-century avant-garde playwrights, the latest being sci-fi specialist Gordon Dahlquist.
In Wake, Dahlquist, author of "The Glass Eaters" trilogy, paints a portrait of a future world dominated by artificial intelligence. Exposed to it for the first time is Irene (Natasha St Clair-Johnson), who wakes from a long cryogenic slumber to find herself surrounded by humanoids controlled by a higher power called Platform (Megan Kim). Poor Irene is completely mystified by this turn of events; the last thing she remembers is when she was dying of ovarian cancer some time in the past. One of her last acts was to sign up to have her body frozen, with the hope of being resuscitated when and if a cure was found for her disease. That's exactly what has happened, but much to her dismay she discovers that the world she knew has disappeared, replaced by a mock-benevolent dystopian society.
Her guide is May (Alicia Rose Ivanhoe), an A.I. researcher who has been assigned to study her. May, dressed in shiny latex and speaking English in a mechanical way, shows a few glints of friendship but for the most part has about as much humanity as a robot.
Also on the robotic side is a goofy young man, Sean (Jeffrey Gardner), another A.I. construct who takes his orders from Platform.
The last character we meet is Sarah (Sandy Mansson), who turns out to be another befuddled and bereft cryogenic survivor.>
Cast:
Natasha St Clair-Johnson, Alicia Rose Ivanhoe, Megan Kim, Jeffrey Gardner, Sandy Mansson
Technical:
Set, Lighting & Video: Charles Duncombe; Costumes: Josephine Poinsot; Sound: Jeffrey Gardner