Images: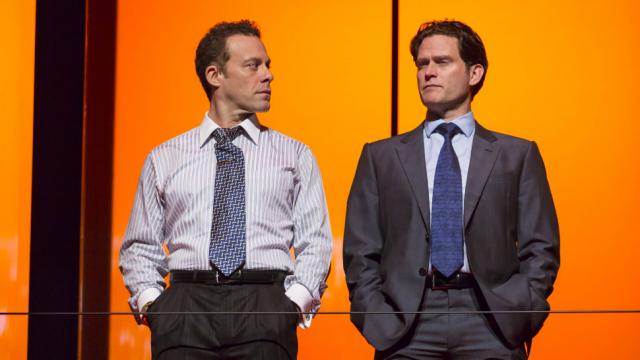 Theater:
Lincoln Center - Vivian Beaumont Theater
Review:
Money, money, money, money. Junk brilliantly explores what happens when money becomes the entire focus of existence. Set in 1985, the story of the brokers who touted debt as being a source of wealth is totally relevant today. Cleverly, author Ayad Akhtar frames the piece with the journey of investigative reporter Judy Chen, played by the gorgeous Teresa Avia Lim. She's gung ho to write a book exposing the financial crisis being perpetrated by sleazy market traders.
At the top of this ever-expanding heap is Robert Merkin. Steven Pasquale shows us a complicated guy who wants big money, and will do anything to get it. But there's another side to him, and we do feel sympathy as we realize that he's seen his brilliant father belittled by the anti-Semitism which is still rampant in the white shoe, old line communities. Merkin is also keen to placate his wife Amy (Miriam Silverman), a Lady MacBeth type character who urges him to not be "weak" but to push on to more and more outrageous schemes. She assures him that what he's doing is noble, and good for the country. He feels the need to lie to her; he can't risk telling her the truth, and enduring another tongue lashing.
His cohorts are all too willing to go along. Israel Peterman (Matthew Rauch) is Merkin's henchman, the face of the behind the scenes machinations. He's Jewish, too, and his initial hesitation is swept away as he's reminded of the snubs he's faced, and the opportunity to acquire the only kind of revenge the haters will understand. As a Cuban, lawyer Raul Rivera (Matthew Saldivar) is an outsider, too. Together, the three schemers will wheel and deal their way to billions.
The bullseye is the company Everson Steel. Merkin and company are hot to take it over, above the vociferous objection of owner Thomas Everson, Jr. (Rick Holmes). The business was started by his grandfather, taken over by his father, and now is his responsibility. He can't fathom his existence without the life's work of generations. Everything in the town of Alleghany is influence by the Eversons. He expresses his commitment to keep the company running, and to make sure the workers still have their jobs. What he needs is money to renovate the mills.
He doesn't realize that he's about to come up against Leo Tresler (Michael Siberry), a sharp operator who has no compunction about chopping up a company and selling it for parts. The only thing distracting Leo is the severe case of lust he feels for Judy Chen.
There's all kinds of wheeling and dealing going on, involving Jackie Blount (Ito Aghayere), who's playing both sides of the conflict; Boris Pronsky (Joey Slotnick), a tough guy Amy hates but Robert needs; and a poor little nebbish named Murray Lefkowitz (Ethan Phillips), who's terrified of gambling with his wife's money but falls under Robert's spell anyway.
Everything seems to be rolling along just fine, except for one glaring fact: the feds are closing in. Kevin Walsh (Phillip James Brannon) is on to the whole dirty mess, and uses tapes and intimidation to bring Robert to justice. Merkin's days are numbered. But as he looks down at the city he plans to buy for billions, he's on top of the world. And as it turns out, he pretty much can wheel and deal his way out of almost anything.
True, the characters bear a striking resemblance to real people (think Michael Milken, Rudy Giuliani), but they are really architypes of our society. When money becomes more important in our elections than ideals, when our philosophy is "he who dies with the most toys wins," and as long as prejudice exists to inspire a lack of scruples, we will always be easy marks for the Robert Merkins in our midst. After all, everyone likes having money, and we'd all like to have some more. We have to realize that just because an individual is loaded, that doesn't mean that we all chase along behind like the children of Hamlin, taking every word as gospel. We have to be smarter and on a more moral course of existence than that. And Judy Chen? She tells us that she's done what everyone would do; she takes the money.
Cast:
Ito Aghayere, Phillip James Brannon, Tony Carlin, Jenelle Chu, Demosthenes Chrysan, Caroline Hewitt, Rick Holmes, Ted Koch, Ian Lassiter, Teresa Avia Lim, Adam Ludwig, Sean McIntyre, Nate Miller, Steven Pasquale, Ethan Phillips, Matthew Rauch, Matthew Saldivar, Charlie Semine, Michael Siberry, Miriam Silverman, Joey Slotnick, Henry Stram, and Stephanie Umoh
Technical:
Set: John Lee Beatty, Costumes: Catherine Zuber, Lighting: Ben Stanton, Original music/Sound: Mark Bennett, Projections: 59 Productions