Images: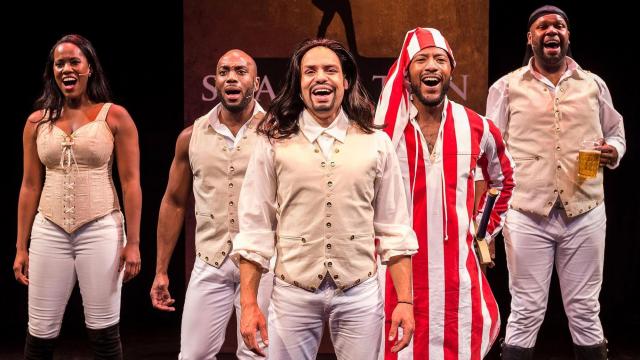 Theater Address:
9820 Washington Boulevard
Review:
Spamilton pokes more fun at Hamilton's creator, Lin-Manuel Miranda, than it does at Hamilton itself. Leaving the politics and the American revolution out makes for somewhat toothless satire, but that's pretty much Gerard Alessandrini's specialty, as evidenced by his various Forbidden Broadway revues. Showbiz and personalities are his targets, his large and easy targets. That said, Spamilton is still pretty funny, though for me it wore out its welcome at about the one hour mark, owing to the sameness and shallowness of its rap lyrics. Harping on Miranda's life—"a Latin whipper-snapper"—even gets old for Alessandrini, who then trains his comic sights instead on Barbra Streisand, The Lion King, Little Orphan Annie, and Stephen Sondheim.
The helter-skelter nature of Spamilton, which has now come to L.A. after a successful off-Broadway run, is mitigated by the drive and energy of its nine-person cast, led by William Cooper Howell as Miranda. Working on a near-bare stage with a lone pianist, the excellent James Lent, pounding out the score, the performers sing and dance with non-flagging energy and high spirits. They also change in and out of Dustin Cross's outrageous costumes with dazzling ease and flair.
Spamilton opens with a comically posed President and First Lady Obama referencing Hamilton, but that political touch is not followed up on by Alessandrini, who'd rather rap about how the success of Miranda's landmark historical musical has unfortunately made Broadway less gay.
Cast:
Glenn Bassett, Susanne Blakeslee, Dedrick A. Bonner, Becca Brown, John Devereaux, Wilkie Ferguson III, William Cooper Howell, Elijah Reyes, Zakiya Young
Technical:
Lighting: Karyn D. Lawrence. Set/Props: Glenn Bassett. Costumes: Dustin Cross. Sound: Adam Phalen.