Images: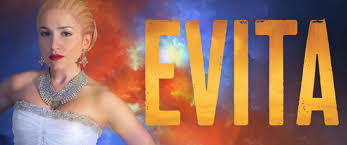 Theater:
Florida State University Center for the Performing Arts - Mertz Theater
Review:
"Staging Our World"—Asolo Rep's new project after five years of exploring the American Character—begins by focusing on Evita. Engaging a largely Latino main cast, Eva Peron's story has a mixed emphasis on her personal and public persona, as well as her good and bad effects on Argentina and its people. Some is true; some invented. But for certain, everything narrative pales within the production's colorful technical explosion.
Yet the atmosphere is always dark. As "Requiem" news is broadcast to a crowd at a movie, Eva's dead body in flowing white floats from on high to disappear into a floor trap. A crucifix appears and so does Che (appealing Justin Gregory Lopez) a young Guevera-like narrator, rebel, commentator who deems the spectacle "Oh, What a Circus!"
Flashback to teenage Eva, falling for actor-singer Augustin Magaldi (Victor Souffrant, slick and aptly affected). She gets him to take her to Buenos Aires. She wants to be an actress and goes through a series of client-lovers to help her eventually get into media. Juan Peron (distinctive Nick Duckart), a colonel pursuing promotion, feels "The Lady's Got Potential" and after Magaldi brushes Eva off, she persuades Peron "I'd Be Surprisingly Good for You."
With her looks and know-how having evolved, Eva has media presence enough to displace Peron's young mistress. (Pretty Gizel Jimenez is touching as she questions musically if this isn't a prelude to a future of such rejections.) Both high society and the Argentine military decry "Peron's Latest Flame" but Eva aids his gaining a promotion and his run for president.
Eva's advantage? She's captivated the Argentinian common people along with Juan. They believe he'll vanquish enemies by establishing "A New Argentina" heralded by crowds who love Eva. As Act I ends, the confident Ana Isabella as Eva beautifully delivers her theme singing that the people shouldn't cry for her and why. She always convinces, even falsifying.
Act II takes Eva abroad promoting Juan's image, but with mixed results. Back home then, she starts the Eva Peron Foundation. "The Money Keeps Rolling In" but Che and others question if all is for the people's benefit. Still, supporters worship "Santa Evita" and Peron shows he loves her. How, during her fatal illness, does her final broadcast to her people affect her image?
It's necessary to go over the narrative details of Evita because many may be lost in the plethora of slides, projections, light changes, use of candles, romps through the audience, and movings of the great staircase (usually to in front of a brick wall with windows meant to be of a palace). The latter is the primary scenic metaphor for the ambitions of Eva and Juan—to climb to positions of power and go through the doorway entrance to the presidential quarters as well as to overall success.
Since the scenery is so dark, although the real Buenos Aires palace area is pink and the city usually bright with sunshine, is the bleakness expressing a directorial point of view? Is the tango toward the end — a dance that to see is worth attending the production — also metaphorical, and if so, why does Eva break into it?
Asolo Rep is sustaining the largest remembered cast and orchestra to stage Eva Peron's world. A memory of it, as directed and mainly choreographed by Josh Rhodes who rose to fame at Asolo, is worth acquiring. So is immediate enjoyment which should survive some of the textual mysteries.
Cast:
Ana Isabella, Justin Gregory Lopez, Nick Duckart, Andres Acosta, Gizel Jimeniz, Victor Souffrant;Tango Dancers: Junior Cerville, Guadalupe Garcia; Ensemble: Enrique Brown, Juan Caballer, Ben Chavez, Emma Diner, Garbriela Gomez, Kourtney Keitt, Caleb Marshall, Gizel Jimenez, Trina Mills, Brandon Michael Nase, Marina Pires, Mica Dominguez-Robinson, Santina Umbach, Salvatore Vieira, Sharrod Williams, Kristin Yancy; Children's Choir: Sophia Cavalluzzi, Tori Lee Greenlaw, Ryan Modjeski, Kyle Ramon, Olivia Yagy, Alexa Ziff; Musicians: Nick Bruno, Tom Ellison, Jonathan Godfrey, Ryan Hiers, Ally Jenkins, Monica MacMichael, Jennifer Miller, Chris Pegis, David Pruyn, Bill Swartzbaugh, Sinai Tabak, Dana Williams, Kevin Wu
Technical:
Set: Paul Tate DePoo III; Costumes: Brian C. Hemesath; Lights: Paul Miller; Sound: Will Pickens; Projections: Alex Basco Koch; Hair, Wig, MakeUp: Michelle Hart; Dramaturg: Paul Adolphsen; Production Stage Mgr: Kelly A. Borgia