Images: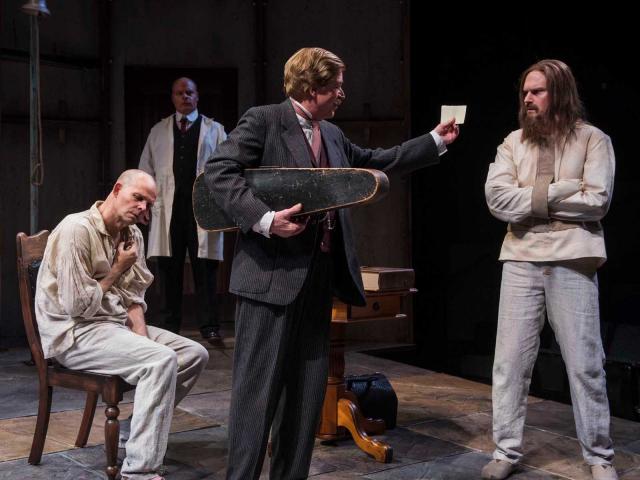 Company/Producers:
Milwaukee Repertory Theater
Theater:
Milwaukee Repertory Theater - Quadracci Powerhouse
Review:
Unlike those mysteries which focus on the exploits of famous detective Sherlock Holmes, Holmes and Watson switches things around a bit. In the US premiere of Jeffrey Hatcher's new play, it is Dr. Watson who takes center stage for nearly the entire production. Holmes, you see, is presumed dead after a battle with his arch nemesis, Moriarty. Neither the loyal Watson nor the audience is aware of what happened at Reichenbach Falls. Who went over the brink? Was it Holmes, Moriarty, or both? Three years have elapsed, and neither man has been reliably identified.
As this play opens, Watson receives a telegram by a doctor working at a remote insane asylum. He is asking Watson to identify which of three inmates – all claiming to be Sherlock Holmes – is the real deal. This somewhat clunky exposition is explained in Watson's (Norman Moses) long opening monologue. Although Watson ponders whether Holmes could possibly be alive after all these years, he must satisfy his curiosity.
So off he goes. A clever and well-timed combination of projections, sliding doors and dry ice (created by set designer Bill Clarke, lighting designer Michael Chybowski and projection designer Mike Tutaj) illustrate the travel route by train, ship and a small boat that leads to the asylum. Watson is somewhat taken aback by the grim surroundings, not to mention that the asylum is located on an island. He meets Dr. Evans (Mark Corkins) and asks to see the inmates immediately.
Not so fast, Evans responds. He is full of questions and hypotheses that he wants Watson to address. Later, the doctor and a ragged-looking orderly (Eric Damon Smith) produce the three inmates from below, by unlocking a rusty-looking gate in the stage floor.
The men could hardly look more opposite. One is tall, dashing and the man who comes closest to looking like Sherlock (Ryan Imhoff). The second, bound in a straightjacket by his own choice, is unkempt and shaggy (Grant Goodman). The third inmate (Rex Young) is the most curious of them all. Bald and muscular, he can neither hear, see or speak. He beached on the island with a sign around his neck saying, "Sherlock Holmes." It seems odd that Dr. Watson doesn't recognize his old friend at once. But that would make this 90-minute one-act considerably shorter. As it is, the plot takes some twists and turns, much to a mystery-lovers' delight.
As Dr. Evans and Watson go back and forth over details of each inmate's history, a prim Matron (Maggie Kettering) appears at intervals to do Dr. Evans's bidding. To be truthful, the eerily lit set and the appearance of a Matron who reminds one of a calmer Cloris Leachman, makes one think of the popular film, "Young Frankenstein."
Oh, if only that were the case. At least the audience would have more fun than enduring this plodding show. Although playwright Jeffrey Hatcher explains in the program notes that he is trying to piece together a more complete profile of the famous detective, by the end of the show, most of the audience has lost interest in the quest.
Cast:
Norman Moses (Dr. Watson); Mark Corkins (Dr. Evans); Eric Damon Smith (orderly, etc.), Maggie Kettering (Matron, etc.); Ryan Imhoff (Patient 1), Grant Goodman (Patient 2) and Rex Young (Patient 3).
Technical:
Set: Bill Clarke; Costumes: Karin Simonson Kopischke; Lighting: Michael Chybowski; Sound: Rob Milburn and Michael Bodeen; Projections: Mike Tutaj.