Subtitle:
A Different Kind of Musical
Images: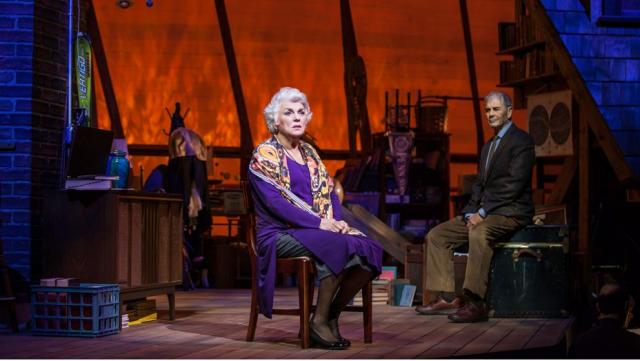 Review:
Tyne Daly stars in Chasing Mem'ries, a tear-jerking mock-musical now in a world premiere run at the Geffen, written and directed by Josh (Wishful Drinking) Ravetch. Daly plays Victoria, a salty, irreverent woman who, after 57 years of marriage, is trying to cope with her beloved husband Franklin's death,
The story unfolds in the attic of Victoria's Connecticut house (overstuffed set by Tony Fanning) on the day of Franklin's memorial. With friends and family waiting downstairs for the ceremony to commence, the Bronx-born Victoria paces round the attic, remembering something about Franklin each time she picks up an old item of his, a bit of clothing, a dictionary, an album of pop music. Occasionally, Victoria listens to one of Franklin's records on an old-fashioned turntable; at other times the music floats up to the attic from the lawn where a trio is entertaining the mourners.
This is what's different about Chasing Mem'ries: the tunes are all standards, written by such composers as Michel Legrand, Johnny Mandel and Marvin Hamlisch, lyrics by Alan & Marilyn Bergman and fitted into the circumstances of the play as extensions of the dialogue.
Tyne Daly sings once in a while, as does Franklin (Robert Foster) who, though dead, appears regularly to relive a tender moment with his widow or to encourage her to get on with her life.
The third character is Mason (Scott Kradolfer), Victoria and Franklin's son, a highly stressed guy who is tasked with trying to persuade his mother to quit mooning around and face up to the responsibility of dealing with the memorial. Mason, who is married to an astronaut about to leave on a five-year trip to Mars, also breaks into song whenever his emotions get the best of him.
Chasing Mem'ries isn't all heartache and sorrow, however. Ravetch gives Daly lots of funny, wisecracking lines (Jewish jokes abound). And there are some lively, spirited exchanges between the trio of actors, even a bit of dancing and clowning. These touches help save the play from drowning in schmaltz. Daly's star turn as the grieving widow Victoria also can't be praised enough; her comic timing and dramatic power alone make the show worth seeing.
Cast:
Tyne Daly, Robert Foster, Scott Kradolfer
Technical:
Set: Tony Fanning; Costumes: Kate Bergh; Lighting: Daniel Ionazzi; Sound: Jonathan A. Burke; Music Director/Orchestrations: Thomas Griep; Production Stage Manager: Jill Gold