Images: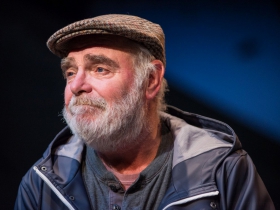 Review:
Milwaukee's Next Act Theater sometimes presents a holiday show that looks like anything but a warm-hearted testament to the love and joy of Christmas (and related holidays, such as Hanukah, etc.). Not so fast. Although it would be easy to brush off the U.S. premiere of Rick Chafe's The Secret Mask as an anti-holiday show, that would be short-changing this excellent production.
Two grown men – a father and son – come to know each other after the 70-something father suffers a stroke in the Canadian city of Vancouver. Take it from this reviewer – who has had a stroke in real life – actor James Pickering knows what he is doing in playing the patient. If anything, Ernie is a bit too cheery about his twice-daily sessions with Mae, his speech therapist (played wonderfully by Tami Workentin, an actor who is also Pickering's real-life wife).
In truth, any kind of "testing" can produce disappointment in the patient, because it indicates a longer road ahead than the patient realizes. In The Secret Mask, playwright Rick Chafe takes us through the many emotions that Ernie (Pickering) goes through as he slowly makes progress in getting his brain to retrain itself. The script does an excellent job of explaining to the grown son (via Mae) what his father is dealing with (aphasia, etc.).
The 40ish son, George (Drew Parker), initially comes off as a total jerk. He's a busy executive who is never far from his ever-beeping cell phone. Although his boss graciously has granted him time to deal with his father's' illness, George's family isn't nearly as generous. Before the show is over, George will face some life-changing news of his own.
Parker gives us a delicately nuanced portrait of a control freak who wishes he could snap his fingers to restore his father's health, and another snap to keep his wife and teenage son in line. Of course, life doesn't work like that. Parker shows a credible sense of disbelief when Mae tells him how long the recovery progress might take. Oh, and was George aware that he is responsible for finding a new living situation for his father when released from the hospital?
Once the audience learns that Ernie ran away from his family many years ago, it offers some clarity to George's behavior. Why should George take responsibility for anything in his estranged father's life?
George already is helping his mother (whom we never meet, but who comes to life via several phone calls). She's in senior living but still can't quite grasp how to function there. Whenever she needs help, she calls George. And now Ernie is going to require as much – or more – of George's precious time.
Audiences in the "sandwich generation" (caring for elderly parents plus their own children) will easily relate to the situations presented here. However, Chafe adds some much-needed humor. For instance, when Mae asks Ernie what he thought of a nursing facility he just visited, Ernie said the people were too old. How old were they, Mae inquires. Ernie has a one-word answer: Egyptian.
The Secret Mask is Drew Parker's introduction to the Milwaukee theater scene. One hopes he will return from the Los Angeles area soon to join another show. Pickering and Workentin are local stage veterans who have worked together on many shows, so it's a plus that director Edward Morgan brings in someone new to mix things up a bit.
Theatergoers may initially balk at the subject matter (or, conversely be drawn to it), but The Secret Mask is much more holiday yule log than fruitcake. It's powerful, it's funny, and it's definitely worth seeing.
Cast:
James Pickering (Ernie). Tami Workentin (Mae, and all the other female characters); Drew Parker (George).
Technical:
Set: Rick Rasmussen; Costumes: Dana Brzezinski; Lighting: Aaron Sherkow; Sound: David Cecsarini