Images: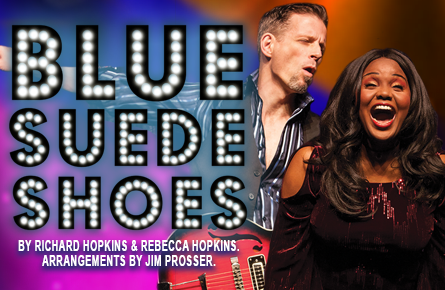 Theater:
Florida Studio Theater - Goldstein Cabaret
Review:
From "Rock Around the Clock" to "Shake, Rattle, and Roll" both performers and audience at Florida Studio Theater's Goldstein Cabaret are reacting with a beat to the predominant music of 1950s and 1960s. The Blue Suede Shoes revue goes musically and historically speaking from rock and roll's birth to a multifaceted maturity. Personalities dominate throughout along with the heftiest hits.
The three dynamic male singer-musicians narrate "Good Rockin' Tonight" and then "Rock the Joint" telling how the first rock song was actually "Johnny B. Goode" by Chuck Berry. Elvis Presley comes on the scene with "Hound Dog." Jannie Jones then takes over the stage demanding "Shout Sister Shout" followed by "Lawdy Miss Clawdy."
Two different versions of "Blueberry Hill" point up how the song could take on a new life by being rocked. Jannie shocks with her "Whole Lotta Shakin' Goin' On." (She's abetted by a cut-out-at-the-shoulders, sleek. mainly red long tunic.) Nygel D. Robinson matches her partyin' and knockin.'
Act I ends on a sweeter note with Joe Casey's "Love Me Tender." "Teddy Bear" and "Don't Be Cruel" lead into Gabriel Aronson's increased vocalizing. The title song blends with a near-violent "Shake Rattle, and Roll" leading to a much-deserved intermission.
New rock icons Ray Charles and James Brown get attention in Act II, but Chuck Berry or Wilson Pickett or Elvis aren't left behind. Jannie Jones's "Hard Headed Woman" is more restrained than her previous embodiments, leading to a gradual slowdown in the program's musical choices and less important narration. But Thom Beaulieu's lighting, which has always worked well, achieves arresting effects on the curtained background in the show's final half.
After time spent "In the Ghetto" (like Mac Davis), the group takes applause for it's "If I Can Dream." Not to worry, though; the audience is assured they'll get a last taste of what they came for. The group goes through a rousing "Blue Suede Shoes" for an encore, planned and pleasing.
Cast:
Gabriel Aronson, Joe Casey, Jannie Jones, Nygel D. Robinson
Technical:
Music Director: Darren Server; Costumes: Adrienne Webber; Lighting: Thom Beaulieu; Sound: Thom Korp; Sound & Light Board: Tanner Lias