Images: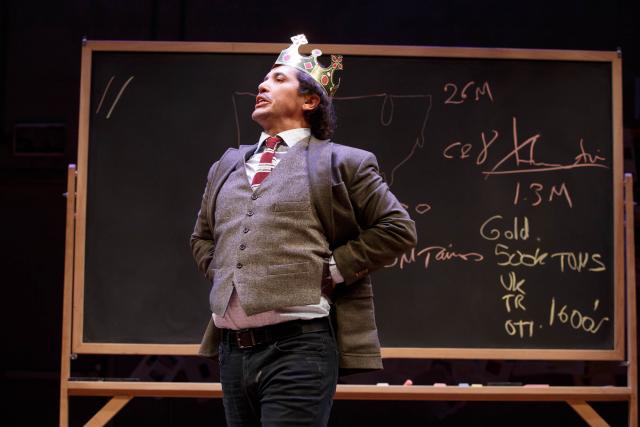 Review:
John Leguizamo's play, Latin History for Morons, has a niche audience, but Leguizamo's talent and charm appeals to almost everyone. That's why the show that played to sell-out audience at The Public Theater recently moved to Studio 54. The performer treats the audience like a slow class and, as the teacher, he must teach us about the illustrious world history and contributions of Latinos.
He first sets to learn the history himself and is astounded when he learns about the contributions that Latinos made over the years. However, he explains that he has a motive- his son is being bullied and called a "beaner." Parents in the audience will empathize as he tries to instill pride in his son. Unlike Leguizamo, who grew up in a tough neighborhood, his son attends a private school, but that doesn't prevent the bullying. The boy also needs to find a subject for his end-term hero project and Leguizamo suggests several historic characters over the course of the show.
It all begins with the performer discussing own DNA as he explains that he is a mix of many different ethnic groups. He writes on the blackboard, dons prop hats and performs a series of impressions. He plays many different characters and uses distinctive voices, from his wife and kids to his therapist and assorted famous historical figures-many of whom sound effeminate.
The tragic realities of Latino encounters against European aggression are sobering but not new or revelatory to those who have a slight knowledge of history. The performer introduces the notion of "germ warfare," emphasizing that the Europeans brought diseases that wiped out flourishing civilizations. Yet for some in the audience, this information struck a chord and many, including the enthusiastic gal behind me, answered him as if he could hear her.
In his attempts to mine comedy, Leguizamo often digresses, using personal stories about his own life and family that aren't connected to being Latino. They just are opportunities to evoke laughter.
The show is still predominantly focused on its target audience and Leguizamo often uses Spanish, sometimes translating and sometimes not. (In fact, there are times it's a bit awkward not knowing the language.)
The show is funny and somewhat informative. Despite its narrow focus, it easily fills a major Broadway theater. After all, 27% of the population of New York City, over 2 million people, is composed of Latinos. Latin History for Morons is sure to enjoy a long run.
Technical:
Set: Rachel Hauck. Lighting: Alexander V. Nichols. Costumes: Luke McDonough