Images: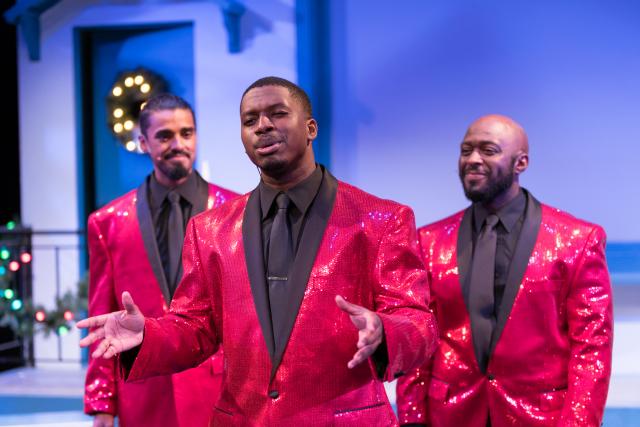 Company/Producers:
West Coast Black Theater Troupe
Theater:
West Coast Black Theater Troupe
Website:
westcoastblacktheatre.org
Review:
A glorious gift to WBBT's devoted fans, A Motown Christmas repeats earlier years' special holiday revues with pleasing additions. Creator Nate Jacobs's research turned up "seldom-heard Motown Christmas treasures" by Smokey Robinson (at least three), Stevie Wonder ("It's Christmas Time"), and Marvin Gaye ("I Want to Come Home for Christmas"). But no favorite Motown or traditional songs are omitted from a show that lasts longer than usual but doesn't leave audiences sated.
Motown melodies occupy most of the longer first half. They're introduced by the more traditional "Deck the Halls" by the Company and ended with "Joy to the World" in which all lead to a rousing gospel-style rendition by Tarra Conner jones (sic). In between, hits by The Supremes, especially "Stop in the Name of Love" rendered by Ariel Blue, JoAnna Ford, and Ashley Brooks, lead into Michael Mendez, Leon Pitts, Derric Gobourne Jr., and Brian L. Boyd specializing in The Temptations, especially "My Girl."
Each member of the cast has a highlight in each act. Michael Mendez, who sings precipitoustly higher than usual in some numbers, recalls his often-star status with "The Tears of a Clown" in Act I and "Give Love on Christmas Day" in Act II. Joanna Ford in each Act shines in dances as well as in group vocals benefitting from her soprano voice.
Derri Gobourne Jr., who's high-dancing earlier on, later scores singing "I Saw Mommy Kissing Santa Claus." Vocalist Brian Boyd nicely holds the stage often, notably singing "Can I Get a Witness" and "I Want to Come Home for Christmas" as well as his duets with Tara and in a Christmas medley with a WBTT founder, Leon Pitts. He's always reliable and recently handsomely trimmed down.
Big man on WBTT's campus, Nate Jacobs leads his company into "I Believe in Christmas Eve" and a duel "Christmas Song" with "Have Yourself a Merry Little Christmas." He obviously enjoys being with them all the way.
Ashley Brooks, Carmi Harris, and Chakara Rosa display multiple personalities in a variety of supporting singing, acting, dancing roles. Joey James' acting makes transitions between as well as onstage possible. Raleigh Mosely II supports the Men's groups ably. The Band may be offstage but its artisanship can never taken for granted.
All in the technical crew show mastery in making the entire atmosphere celebratory of the holidays and giving the cast enough sound, light, and space to perform. Yet there are decorated Christmas trees and ribbons throughout. Costumes, as usual, are outstanding with their definite prime colors (except for the men's black trousers and gold-filled vests) as well as sequined, rhinestoned glitter. Central background projections definitely inform about the music and groups that perform them, along with appropriate pictures.
Audiences get chances to join in singing, clapping, even dancing WBTT's holiday celebration. The gracious lady sitting next to me was seeing the show a second time and game to come back again. I certainly endorse her feelings about its quality.
Cast:
Ariel Blue, Brian L. Boyd, Ashley D. Brooks, Tarra Conner jones, JoAnna Ford, Derric Gobourne Jr., Carmilia Harris, Nate Jacobs, Joey James, Michael Mendez, Raleigh Mosely II, Leon S. Pitts II, Chakara Rosa
Technical:
Musical Director & Production Mgr: James E. Dodge, II; Set: Michael Newton-Brown; Costumes: Adrienne Pitts; Lights: Nick Jones; Props: Annette Breazeale