Images: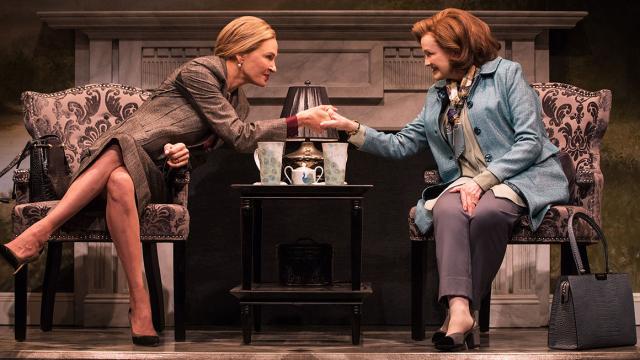 Company/Producers:
Marc Routh, Richard Frankel, Tom Viertel, Steven Baruch, Steve Traxler, Grad/Ragy, Jam Theatricals, Gabrielle Palitz; Marvin Rosen, Andy Okoskyn/Ivanna de Benito, Peter & Susan Crampton Davis, Peggy Hill, Terence & Lori Street, Lucille Werlinich, Cecelia Joyce Johnson/Deep End Productions, Thomas Kranz/Robert Shelley, Joe Watson
Website:
parisianwomanbroadway.com
Review:
The play I wish I'd seen: a dialogue built around the conflict of the politically ruthless Jeanette (Blair Brown) and her ambitious yet naïve daughter, Rebecca (Phillipa Soo). Every time Brown begins to talk in The Parisian Woman, the energy level on stage increases, and the rather pedestrian plot seems much more interesting. Soo is an actress still fresh, and to some degree, an unknown quantity. How far will she rise, and can she meet the expectations of those who loved her in Hamilton and Amelie? In other words, she's at a point very similar to her character in this play.
Alas, Jeanette and Rebecca are side characters this time around. The star and big-name performer is Uma Thurman who, while icily beautiful, does not bring much excitement to the stage. Working alongside her is Josh Lucas, who often seems as though he'd rather be involved in one of the many projects for which, as he tells us in his program bio, he is most grateful.
This husband and wife combo, Chloe and Tom, are supposed to be evil, status seeking, ladder-climbing denizens of that corrupt land, Washington, D.C. They'll do anything to get ahead; victory at any cost is no longer a hidden vice these days, and we've come to expect sexual harassment, mudslinging, and venal lies as part of the landscape of national news. So, to get and keep our attention, you'd better be pretty awful, and very interesting. That is not the case here.
Marton Csokas does a noble job of bringing to life Chloe's hapless lover Peter. That he is just another pawn in the political game being played doesn't come as a surprise. The sets are great, the costumes are perfect, and every now and then, there's a spark of humor. But for real commentary and wit about the innate buffoonery and noxious behavior of Trump and his acolytes, I suggest you tune in to Stephen Colbert, who nails it pretty much every time.
Cast:
Uma Thurman, Josh Lucas, Blair Brown, Marton Csokas, Phillipa Soo
Technical:
Sets: Derek McLane; Costumes: Jane Greenwood; Lighting: Peter Kaczorowski