Images: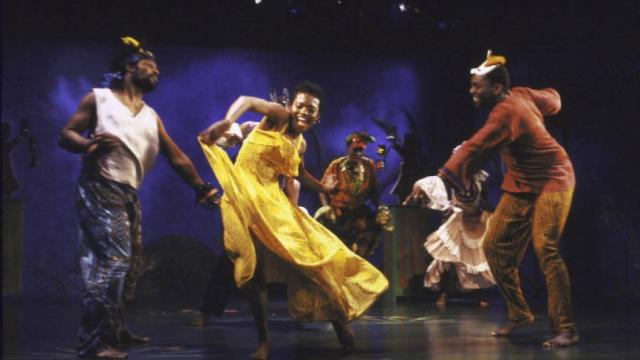 Company/Producers:
Ken Davenport, Hunter Arnold
Review:
It's a mistake to take Once On This Island too literally. It's a fable, a story passed down through generations, a part of the local culture. In this case, that means the French Antilles, where the rule of the day seems to be the lighter, the better, and it's an unwritten law that the poor folks on one side of the island don't mix with the wealthy inhabitants who live over the mountain. All this is disrupted when a special little girl is adopted by a big-hearted couple. They call her Ti Moune, and they soon discover that she's not like everyone else.
As the audience enters, the scene is immediately set with villagers going about their daily routine, communicating with each other, and interacting with their animals, including chickens and a rather captivating goat. There's a boat onstage; no doubt, this is an island. There's an eruption of terrifying thunder. The natives sing and dance to their gods, who appear in human form throughout the show. There's tragedy aplenty, but in the destruction, one little girl is spared; she is acknowledged a favorite of the gods, and it's generally believed that she's survived for a reason.
Hailey Kilgore, dressed in red and bright shining as a star, brings to Ti Moune a Zendaya-like quality of excitement and likeability. When Daniel (Isaac Powell), a careless rich boy, crashes his car, Ti Moune instantly falls in love, and feels that it's her destiny to make sure he survives, and to nurse him back to health. The two young people develop a strong connection, which soon turns to love. When Daniel returns to the other side of the island, and the "grands hommes" society into which he was born, Ti Moune vows to find him, and cement their union.
Helping her in her seemingly impossible quest are the gods Erzulie (Lea Salonga), goddess of love; Earth mother Asaka (Alex Newell); the god of the dead, Pape Ge (Merle Dandridge); and Agwe (Quentin Earl Darrington), blue god of the water. While all the performers are worthy of high praise, it's especially heart warming to experience Ms. Salonga once again on the Broadway stage.
No matter how lovely she is, alas, Ti Moune discovers all too soon that Daniel is not strong enough to defy his family and the island taboo. There's an uncomfortable moment when he asks Ti Moune to dance for a gathering of his peers, and she complies with a wild, sensuous, and totally free performance, which opens her up to scorn by the more uptight upper classes. Why does Daniel, who hasn't before shown cruelty, subject her to the ridicule he knows will follow? There are other choices that have been made that may or may not work, depending on the point of view of the audience. While I had no problem with the male/female seemingly random gender choices of the gods, I don't think mixing complexions worked as well with the snobbish wealthy islanders vs. the peasants. This is a case where the color of skin does matter to the storyline.
But again, it's a mistake to take Once on this Island too literally. It is a myth, a fairytale. At the performance I covered, the audience was completely on board with the production, loudly encouraging each actor, recognizing and acknowledging the songs and performers, and even trilling in certain spots. I wonder how they seemed to know the show so well. Were they part of the substantial Haitian population of our own island, Manhattan? Has this become a cult favorite? I envied them, and did my best to react to the entertainment as they did, viscerally and with an open heart.
Cast:
Lea Salonga, Alex Newell, Merle Dandridge, Quentin Earl Darrington , Hailey Kilgore, Phillip Boykin, Darlesia Cearcy, Rodrick Covington, Emerson Davis, Alysha Deslorieux, Tyler Hardwick, Cassondra James, David Jennings, Grasan Kingsberry, Loren Lott, Kenita R. Miller, Isaac Powell, T. Oliver Reid, Aurelia Williams, Mia Mei Williamson.
Technical:
Sets: Dane Laffrey. Costumes: Clint Ramos, Lighting: Jules Fisher, Peggy Eisenhauer; Sound: Peter Hylenski