Images: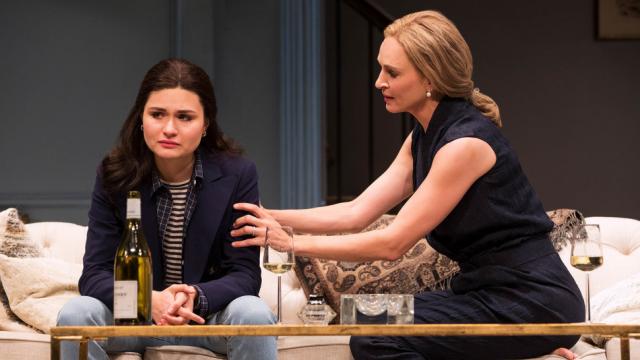 Review:
Despite the presence of sultry actress Uma Thurman in her Broadway debut, The Parisian Woman never heats up. Set in present-day Washington, the drama centers on Chloe (Thurman) and her husband Tom (Josh Lucas), a tax lawyer who is on the shortlist for a judgeship. The two have an open marriage, and she has lovers, two of whom we meet in the course of the play. When Tom learns that he won't get the job, Chloe springs into action and uses her lovers to influence the appointment.
The story was written by Beau Willimon, the creator of TV's "House of Cards," and provides a dark insight into politics, but this play lacks the teeth of the television show.
Thurman is beautiful and stately and seems quite comfortable onstage, but the secondary actors lack power. Lucas is quiet and bland. Martin Csokas, her male lover Peter, gets to yell jealously, but he just seems a bit cartoonish and almost boring. Phillipa Soo, so marvelous in musicals like Hamilton and Amelia, lacks strength in the role of Rebecca, a young law school graduate who plans to change the world.
Some digs about politics, particularly about the Republicans, cause scattered laughter from the audience. General Kelly's name is mentioned often, and although the president is rarely mentioned by name, it's clear that Chloe, despite being apolitical, dislikes him.
Blair Brown, a wonderful actress, provides the play's only strength as Jeanette, a Republican, who has been nominated for the Federal Reserve. She keeps rationalizing the president's behavior and assures Chloe that the party has everything under control. Over the course of the play, she begins to sound doubtful and acts as if she doesn't even believe it herself.
The play ends predictably. Are we supposed to see the machinations as an indictment of the political system? One that is filled with favors and blackmail? What else is new? There are a couple of plot twists, but not enough to hold one's interest. Between the scenes, there's the projection design by Darrel Maloney, a neon stream of words, like TV news scrolls, nearly impossible to decipher. However, Blair Brown aside, unless you really need to see Uma Thurman close up, there's no reason to see this play. Nothing new, nothing exciting with no character you care anything about. In fact, it was the first time in a long while that I struggled to stay awake in the theater. So why battle the New York Christmas crowds?
Cast:
Uma Thurman, Josh Lucas, Blair Brown, Marton Csokas, Phillipa Soo
Technical:
Set: Derek McLane. Costumes: Jane Greenwood. Lighting: Peter Kaczorowski. Projections: Darrel Maloney