Images: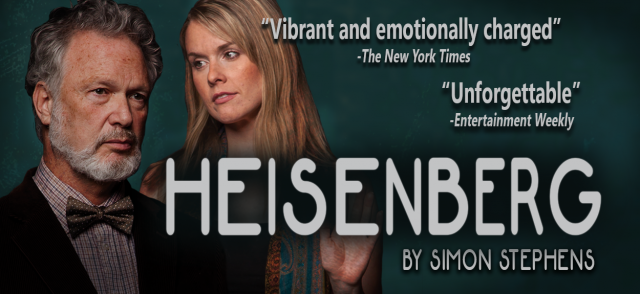 Theater:
Florida Studio Theater - Keating
Review:
What happens when, at a London rail station, a goofy gal plants a kiss on and then besieges a reserved older guy? It might exemplify physicist Werner Heisenberg's Uncertainty Principle, because every action taken by either of the characters in Simon Stephens' play has at least two possible outcomes. It's fascinating to find out which occur and even maybe how they in turn affect their worlds.
On the surface, the play is a variation of a "cute meet" with some subsequent problems that will get eventually get resolved or not. But the characters here are real people who maintain your interest. You want to follow each mystery that latches on to each moment when they come together and have decisions to make.
Who is Georgie? A 40-something kook? A stalker? A frenetic woman who likes swearing, taking pictures, "making things up"? A sex-seeking disillusioned divorcee with problems, trying to solve a major one? Whatever the truth, Rachel Moulton holds your absolute attention to the uncertainties buried in it. All you really know for most of the play is that she's an American with 19 reasons for how and why she acts as she does.
At Georgie's approach, how disconcerted is Alex? Or interested? George Tynan Crowley quickly piques your own interest. Why is he so calm? What does he like about being a butcher? And London, since he's still so Irish? How is he ultimately going to respond to Georgie?
In fact, the play lies mostly in Alex's character and decisions. What does he want out of a life almost twice as long as Georgie's? What about that life, especially its disappointments in relation to family and an early romance? How have and will they affect him?
What part does music play? Are the steps of a tango a metaphor for what else is happening between Alex and Georgie? These are only two of mysteries that will keep you involved. Director Kate Alexander has paced each revelation beautifully as the acting she has supervised.
There's a minimal set, with the actors moving tables around to designate new scenes. (At one time, a stage hand pulled a table off—which was jarring). So Rob Perry's lighting helps immeasurably.
My companion told me the town in New Jersey mentioned in the play is definitely not the size mentioned; the English author did not do his homework. But he did write a play eliciting well-directed performances at FST that I think should please.
Cast:
George Tynan Crowley (Alex); Rachel Moulton (Georgie)
Technical:
Set: David Arsenault; Costumes: Jeff Cone; Lighting: Rob Perry; Sound: Thom Korp; Stage Mgr: Kelli Karen