Images: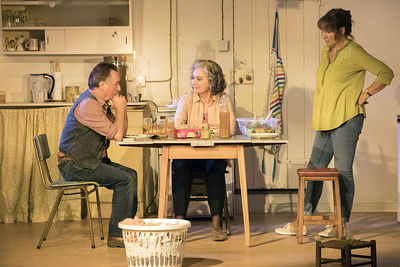 Company/Producers:
Manhattan Theatre Club / The Royal Court Theatre
Theater:
Samuel J. Friedman Theater
Review:
Trust me when I tell you this is not a Date Night show. The actors are superb, the production is close to flawless, and it certainly is thought provoking. But any way you look at it, The Children is a major downer, and you will not leave feeling romantic. There is one set, a shabby little kitchen in a run-down cottage, somewhere by the sea, in England. The sound of the waves is clearly heard after the initial weird "2001: A Space Odyssey"-type music which opens the proceedings.
As the lights go up, we see Rose (Francesca Annis), an attractive woman of a certain age, standing alone in the room. It's obvious that her nose has been bleeding profusely, down her neck and onto her blouse. The lady of the house, Hazel (Deborah Findlay) come rushing in to clean her off. She also offers to wash Rose's blouse, but Rose vehemently refuses. There is obvious tension between the two women, and we immediately sense that something is off in their friendship. This only increases as it becomes obvious that Rose knows her way around. She sits in a chair and, without giving it a thought, she pulls out a footstool from underneath. When Hazel feels faint, she offers to get her a glass of water, and goes right to the cabinet where the glasses are kept. There's a lot brewing, and it's not just the ever-present English tea.
Bit by bit, we are informed about the disaster Hazel and her husband, Robin (Ron Cook) have endured. They had to leave their home because of a melt down at the nuclear power plant where all three characters had previously worked. The radiation is still intolerable, and the danger of contamination of the nearby sea is a real concern. Both Hazel and Rose, as scientists, are well aware of the consequences, and both have been affected, each in her own way. When Robin returns from his daily occupation of caring for the cows on the now abandoned farm, things become even dicier. He breaks out the homemade parsnip wine, and as the three old sometimes friends sit in the candlelight of evening and share a meal of crackers, bread, and salad, things get both looser and tighter. A word of praise must be given here to Deborah Findlay, who never misses a beat despite an enormous amount of stage business. She prepares the greens for the salad, slices the bread, and lights the candles. Electricity doesn't come on until later at night, so every bit of energy must be conserved.
This doesn't apply to the characters, of course, and when Hazel leaves the room to talk on the phone with troubled daughter Lauren, Rose and Robin become far more intimate. Has Rose decided to re-enter the picture after years away in order to steal Robin from Hazel? Would he be willing? But wait! They'll all dance instead. Hazel re-enters, and they engage in a spirited line dance which Hazel made up when they all worked together at the power plant. What doesn't work particularly well is a tasteless bathroom gag, which goes on far too long. And would Hazel, let alone Rose, really be practicing yoga on a floor wet with filthy toilet water?
The brilliant performances by each of the actors, and the skillful directing by James Macdonald keep this very talky play from becoming a snooze fest. But as the real purpose of Rose's visit is revealed, only the implied heroism of the characters keeps this production from being overwhelmingly depressing by the end of the evening.
Cast:
Francesca Annis, Ron Cook, Deborah Findlay
Technical:
Set/Costumes: Miriam Buether ; Lighting: Peter Mumford. Sound: Max Pappenheim