Images: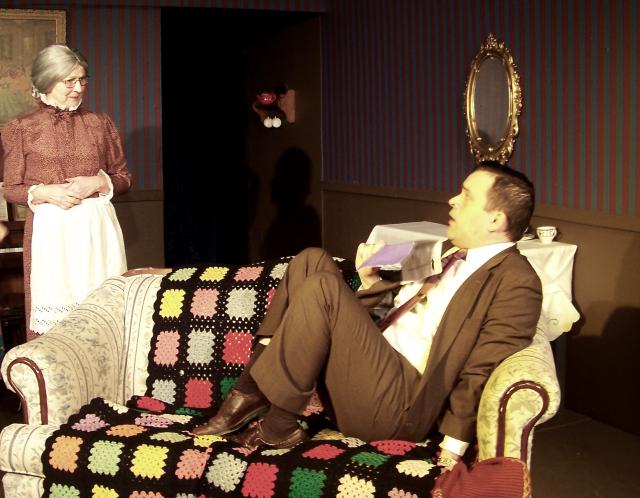 Review:
Long before there were TV shows such as "Dateline" and "20/20" – heck, before TVs were a staple of American households – there was Joseph Kesselring's charming, oddball comedy, Arsenic and Old Lace.
The 'bones" of this chestnut are so solid that Off the Wall Theater's current production could hardly go wrong. Considering that one of Milwaukee's best-known producers/directors, Dale Gutzman, is directing Arsenic, the show is a good fit for celebrating the company's 18th season.
Gutzman not only directs, he joins the cast, as well. However, he doesn't join the rest of the cast for at least an hour into the play. When he does, things really start to sizzle. His character, Jonathan, is supposed to look like Boris Karloff, according to comments made by other characters. Gutzman has the look and the voice of his doppelganger: a blend of Frankenstein-style facial scars, a drooping lip, a scowl and a voice that does indeed resemble Karloff's.
The elderly sisters set the 1940s-time period early on, as they complain about World War II shortages, etc. They make a seemingly goofy comment about Adolph Hitler, wondering about his religious background (this is explained later). The women live with their half-cooked brother, Teddy. He is convinced that he is President Teddy Roosevelt. Lawrence J. Lukasavage is a monocle-wearing delight; he blows his bugle prior to climbing the stairs (which, to his character, represents San Juan hill).
As the sisters, Michelle Waide (as Martha) and Marilyn White (as Abby) come close to stealing the show, with their sweet faces, gray wigs and devotion to doing what's right. They talk about their parents and the rest of their deceased family. Unfortunately for them, the "nut" doesn't fall from the tree.
One of the rooms is occasionally used by nephew Mortimer Brewster (Mark Neufang). Although Mortimer has become immune to the antics of his half-witted uncle, Mortimer isn't expecting anything out of the ordinary from his sweet aunts. In fact, the opening scene demonstrates that the women have become the favorites of local police officers, who regularly stop by (Jeremy C. Welter, Mark Ninneman, and Thomas Welcenbach). The women supply soup for an ailing officer's wife, among other such courtesies.
Aside from the two aunts, it is Mark Neufang as the unsuspecting nephew who works as a newspaper theater critic who generates the most laughs. He discovers what his aunts have been doing all these years, and he's determined to keep them out of the law's clutches.
His attempts to hide what's going on at the house sound fishy to Mortimer's fiancée (Brittanny Meister). In fact, Meister's performance is one that deserves close observation. She's a minister's daughter but is certainly no sap. She has more of a "nose for news" than even Mortimer, and isn't having any of the preposterous things he starts telling her. When Mortimer tries to shoo her away from the house, she literally puts her foot down. What a gal.
The whole production is done with great fun. It goes for the easy laughs, but who cares? There is plenty of hilarity to go around. What's more, the show is safely rooted in the distant past. After all, nobody these days would tell a bunch of lies to hide their errors, would they?
Cast:
Marilyn White (Abby Brewster); Lawrence J. Lukasavage (Teddy Brewster); Michelle Waide (Martha Brewster); Brittany Meister (Elaine Harper); Jeremy Welter (Officer Brophy), Mark Neufang (Mortimer Brewster) ; Dale Gutzman (Jonathan Brewster); Robert Zimmerman (Dr. Einstein).
Technical:
Set/Costumes: David Roper w/ Sunset Playhouse; Special costumes/Props: Marilyn and Randy White.